Patron vs. Production Scanners: Which Type do You Need?
Our favorite kinds of blogs to write are those sparked by user feedback. Last week, we received an email from a client who had purchased Mekel Technology microfilm and microfiche scanners over 12 years ago and is now looking to purchase a new unit (a testament to the Mekels' long life span; typical industry turnover is estimated at 3-5 years). He saw that we also offer the UScan+ Universal Film (UF) series scanner and wanted to know if that model would be a viable alternative to his Mekel production-level units. This question is common among those shopping for new microform equipment. To help answer the question, here are some of the differences between patron and production microform scanners.
Semantics
First things first: What do we mean by "patron" and "production" scanners?
The UScan+ Universal Film scanner is referred to as a patron scanner because it is designed for ease-of-use by walk-up patrons in libraries, universities, county clerks' offices, etc. It's ideal for on-demand, low-volume microform scanning, saving and sharing.
The Mekel Technology MACH-series scanners, with throughput speeds of up to 700 images per minute, are considered production-level scanners because of their durability and high-volume capabilities. The MACH-series is often a first choice for conversion service bureaus and in-house scanning departments.
Volume, Application and Setting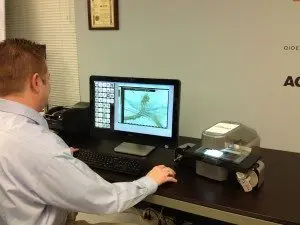 One way to look at the difference between production-level and on-demand/patron scanners is to compare the volume each can handle. The UScan+ is considered a low-volume unit, while the MACH-series scanners are designed for higher volumes. What's perhaps more important to consider is the scanner setting and application.
For example, you may have a large collection of microform but only need to search and scan a few images at a time. In this instance, you don't need a production-level unit. That's the idea behind an on-demand scanner; you scan what you need, when you need it. This is where a scanner such as the UScan+ comes in handy. Libraries, universities and other institutions that provide record and scan services to the public often implement the UScan+ for patron use because users need to find, scan and save or send certain images, not entire collections.
On the other hand, you may have a large collection that you want to scan for a digital archive, to host online or to integrate into a database. For in-house batch scanning such as this, a production-level unit like the MACH-series is required. Conversion service bureaus also utilize these production-level scanners because they can handle such high volumes and operate 24/7 with little to no downtime.
For those that want a collection batch-scanned but do not have the volume to dictate purchasing a scanner, outsourcing is available. Service bureaus like Crowley Imaging perform the work and return the material along with a digital copy. And, as mentioned above, they often perform this work on Mekel Technology MACH-series units (as we do).
Software Specifications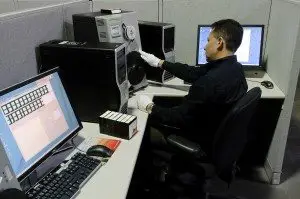 Another aspect to consider when deciding between a patron and production scanner is the software requirements. Do you need a software interface that is patron-friendly, like the UScan+, or one with advanced quality control and image enhancement features, like the Mekel MACH-series? Software capabilities determine how much control you have over the images and how people are ultimately going to use them.
The UScan+ software is designed for ease of use with features familiar to modern technology users, whether they are patrons or the equipment owner.  The software interface is customizeable so that owners can set which editing and output options are available for patrons/users. For public institutions that charge for printing or saving of images, a pay-per-use system can be integrated.  The interface is touch-screen compatible and the tile-like icons are organized by their appropriate stage in the scanning/saving process so that users can easily follow from start to finish.
Mekel Technology's Quantum scan and process software provides a multitude of time and effort-saving features for batch scanning. Images captured in QuantumScan can be sent to a separate PC operating QuantumProcess, meaning that scanning and quality control/processing can occur simultaneously, even in remote locations. QuantumProcess will flag images that don't fit the average frame size so that no irregular images go unnoticed. File-naming features allow users to create a directory for easy file searching. Quantum offers a full suite of image enhancement tools to make microform in even the poorest conditions look like new in digital format.
ROI
As with everything in business, the purchasing decision usually boils down to ROI (return on investment). Lower-cost options like the UScan+ are sometimes originally sought by organizations with large collections that may not fit the profile for an on-demand scanner. Once they measure the time-saving capabilities of the production-level MACH-series, the scanner may easily pay for itself within the first year just from man hours saved. For public institutions, the UScan+ is a perfect fit and pays for itself either in the amount of time librarians and other staff save assisting patrons with a paper jam or outdated technology, or via a pay-per-use system, or both.
The best way to find out which model is best for you? Ask a Crowley representative. Not just because we sell these scanners, but because our hardware sales reps have been in the imaging industry for many years – more than we can politely share in this blog – and they've seen almost every type of collection or method of use there is to see. They know what kind of equipment you need and will honestly recommend the most appropriate solution no matter the cost difference. Because that's what we are here for: to provide imaging solutions.
*Editor's note: In addition to the Mekel Technology MACH-series microform scanners, The Crowley Company also manufactures and distributes the Wicks and Wilson 8800-series microfilm scanners and 7700-series microfiche scanners. These are also production-level units; however the focus of this blog is geared towards the Mekel Technology MACH-series models to address the question posed by our client.
Questions about Patron or Production Microform Scanners or Crowley Imaging Services?
If you have any questions about the capabilities and differences between the various models of microform scanners that we offer or are interested in our conversion services, please contact The Crowley Company by calling (240) 215-0224. General inquiries can be emailed to [email protected]. You can also follow The Crowley Company on Facebook, Twitter, Google+ , LinkedIn, Pinterest and YouTube.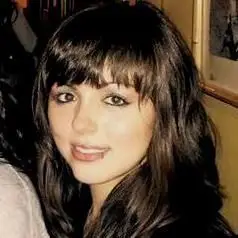 With a bachelor's degree in Mass Communication from Towson University, Camily Bishop serves as The Crowley Company's sales and marketing assistant. A self-proclaimed member of the grammar police and avid reader of classical fiction, you can find her curled up with a good e-book or, on a nice day, experiencing the great outdoors – perhaps at the nearest wine festival.