Preserving Legacies: Baylor University and the Zeutschel ScanStudio
Beyond the fountain of youth or the holy grail, digitization is one of the best tools for fighting mortality. If this seems like an overly romantic train of thought, it is. But in a world where our stories are our legacy, the written word – and creating a long-living, high-quality replication of that word – becomes life beyond death.
Baylor University's Ray I. Riley Digitization Center (RDC) preserves the legacies of various artists and histories through their capture and digital access initiatives. In 2020, the Center purchased a Zeutschel ScanStudio for high-resolution scanning of transmissive and reflective collections. During a recent Crowley ScanStudio webinar demonstration, Travis Taylor, RDC's digitization specialist and academic consultant spoke with Matthew McCabe, Crowley's vice president of sales and marketing, on why the University chose the scanner and how they are using it to digitize Baylor's cultural heritage collections.
Watch the full recorded conversation below (this session was also presented as a Mini Theater at the 2021 ARCHIVES*RECORDS conference).
About the Riley Digitization Center
The Center opened in 2008 with the goal of digitizing and preserving the unique materials of Baylor's special archives, academic departments and libraries. The team comprises of four full-time employees and occasional student workers that manage over 71 online collections. 1.47+ million files are on Baylor's online Quartex database and 1.7 million images are saved on an internal preservation server.
Baylor has been using Zeutschel planetary scanners since 2014. They own two (2) OS 14000 scanners (A0- and A2-size) and a 12002 V-shaped A3 scanner. Baylor also owns an InoTec 400-series rotary document scanner for preservation of large volumes of loose paper collections. In March 2020, Baylor University purchased a ScanStudio A2 to round out their already impressive assemblage of digitization hardware.
Why the ScanStudio?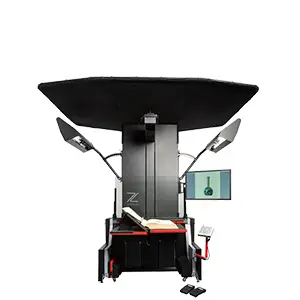 FADGI four-star capability: Taylor states in the interview, "The first thing we were really thinking about was that FADGI four-star capability." As interest grows in imaging standards, more grants are adding the need for FADGI capability to ensure that projects meet a certain measurable level of quality. While Baylor's current projects don't need to meet FADGI-star quality, they've made the forward-looking decision to select a scanner that has proven its ability to consistently digitize four-star rated images.
High resolution images: Most collections captured by the team, including the Browning Letters and Manuscripts, demand a high level of fidelity and resolution. The Browning collections include books, letters, drawings and more from Victorian poets Elizabeth Barrett Browning and Robert Browning. The collection includes elements such as handwriting, color and text and is frequently used by researchers who need to see all details of the materials up close. The ScanStudio offers incredible resolutions of up to 10,000 PPI and can provide advanced detail capture.
The Baylor University ScanStudio's resolution was put to an interesting practical test when the marketing department asked for a scanned image of a vinyl record to use for a large column wrap at the university's new Black Gospel Archive and Listening Center, located next to the Riley Center. The team selected a representative record from the collection, scanned it on the ScanStudio and the resulting image was of a high enough quality to be used for the wrap.
The new Center will be the home of the Black Gospel Music Restoration Project, a core digitization project for the Baylor team. The project aims to "identify, acquire, preserve, record and catalogue the most at-risk music from the Black gospel music tradition." This video from KXXV/KRHD News in Texas gives a great look at the project as a whole and the need for preservation.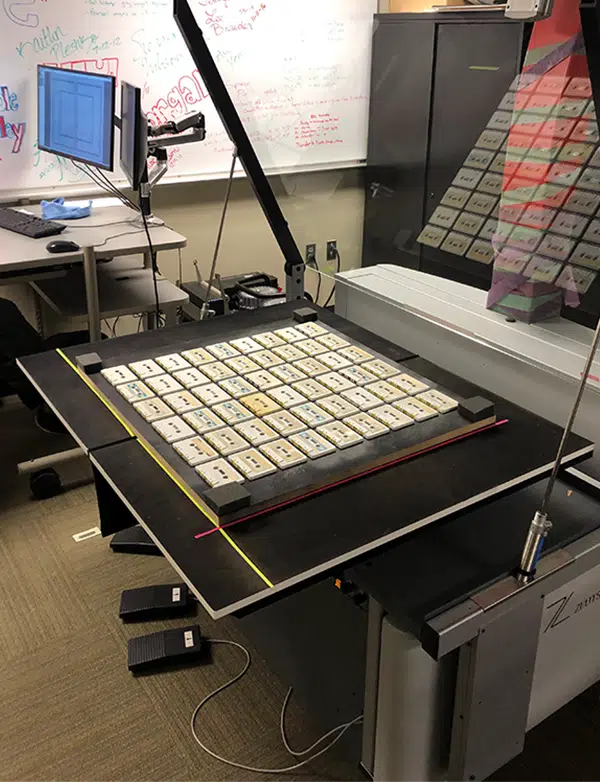 Omniscan OS 12 software: Zeutschel's archive scanners operate using the Omniscan OS 12 software. The Baylor team already had experience with OS 12 from operating the 14000 and 12002 scanners, making the learning curve for the ScanStudio software nearly non-existent. "Omniscan is that reliable element as we move from scanner to scanner. Having that level of reliability is important to us," said Taylor. Although not on the ScanStudio, Taylor also mentioned how his team was able to cleverly capture fifty-four cassette tapes as individual images in one pass of the 14000 scanner using OS 12's multi-clip function, making the tape digitization 54x faster!
Transmissive and reflective capture: An important feature of the ScanStudio is its ability to scan both reflective (paper, photographs, books, etc.) and transmissive (film negatives, slides, glass plates, etc.) materials on the same hardware by swapping out the regular scan table for a light box table. The team receives an increasing number of faculty requests for images from slides or other transmissive media and will use the Baylor University ScanStudio to capture the images in high resolutions.
Crowley Support: When searching for a capture solution, the Baylor team considered creating a DIY scanner but decided that the support from Crowley's technical services department was a critical element in getting the best return on investment from their purchase. "We knew they had a great support staff so that made the decision fairly easy. That backing of Crowley support to help us, to train us to really get the most out of the scanner…that was a really big factor," notes Taylor.
Taylor summarized the whole process well when he said, "We've been learning as we've acquired more scanners from Crowley. Through that learning process we've begun to understand the market a little bit better, we understood what is out there and what our options were and, ultimately, we looked at the ScanStudio and knew that was the best that was out there."
The Star of the Show
While the pandemic has slowed Baylor's ability to operate at full capacity, the team has still been able to capture some remarkable images from their core collections; take a look!
The materials being digitally preserved by team at the Ray I. Riley Digitization Center will continue to tell the stories of those that created and impacted the original works for decades to come. Fighting the hands of time (one scan at a time) we look forward to the many high-resolution images and collections to come!
Preserve a Legacy with Cultural Heritage Digitization
No matter what the collection material, fragility or volume, Crowley's industry-leading scanners and services for historic collections provide safe, high-quality digitization of all cultural heritage media. Contact your Crowley representative, call (240) 215-0224 (U.S.) or request a quote to learn more about the solution options to capture your most precious collections.
---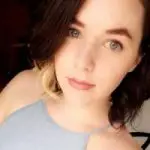 Hannah Clawson is The Crowley Company's Communications Coordinator. After working in the Technical Service department for two years, she is happy to put her technical knowledge and communications degree to good use in another facet of the company. When not traipsing the halls of Crowley, she can be found cruising vintage stores, writing about her favorite bands or at a local rock show.