30 (Days); 9 (Industries); One (Chance to Win): A Month in Crowley Scanner Sales
In our little corner of the blogosphere, we love to "zoom in" on a single client's hardware or imaging services digitization journey. Rarely do we "zoom out" and look at the various vertical markets that make up Crowley's diverse client base. Each scanning story we've told so far is a tile in the larger mosaic of Crowley's vast market reach.
If I give the complete rundown of four decades of Crowley sales, this blog will be 17 pages long and I'll lose my job (discretion is key, dolls). Instead, I noticed that our recent month of sales demonstrates a miniature view of the industries we serve.
This pie chart gives a tasty look at the different vertical markets we serve in August 2017 (pun intended). As you can see, we've portioned (another pun!) our sales into nine main markets: government (local, state and federal); resellers; special libraries; universities (libraries and archives); archives; manufacturing; military; transportation and service bureaus. These categories cover the general base of our clientele with many specialized and unique institutions falling within each category. Each institution within these nine categories had a distinct scanning need that brought them to Crowley's door.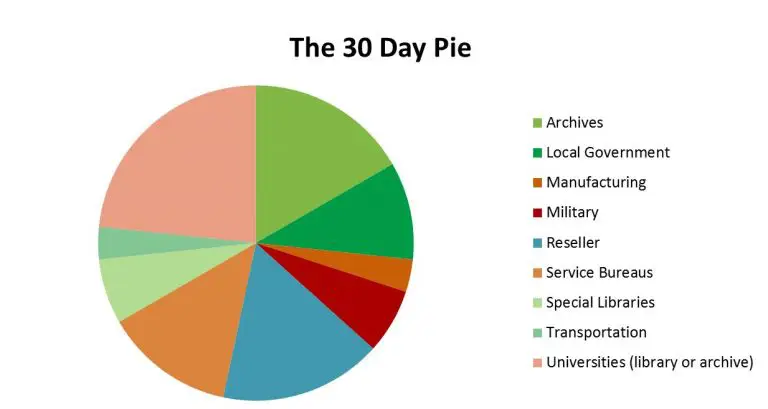 Universities (libraries and archives)
Students, researchers, and everyday patrons utilize university libraries and archives to gain information from academic papers, manuscript collections, local newspapers and genealogical records. These can come in the form of bound or loose documents and microform. Past Crowley examples include Princeton, North Carolina University and the University of Pennsylvania.
Archives
In our business, archives are defined as business, government, non-profit and personal entities that maintain collections of uniquely significant information on a variety of media types including microfilm, fiche, paper, journals, photographs, rare and fragile documents, etc. Examples include federal and state archives, museums, historical societies and more.
Service Bureaus 
Service bureaus are a center-point for digitization services. Using production-level scanning and processing equipment, bureaus provide high-quality digitization of bound, loose documents, film and other media types to clients within the other eight categories. Crowley manufactures and distributes products that are used in our own Crowley Imaging service bureau and by many other conversion service providers across the nation.
Resellers
Crowley partners with a large network of resellers who OEM or resell Crowley-manufactured products to provide clients worldwide with scanning equipment to serve their unique needs.
Local Government
On the federal and state level, it is still necessary for agencies such as county clerks offices, election commissions, records managers, public works and others to create and keep microform records. The reason? It's still the longest lasting storage media and is used to keep enduring images of marriage, birth and death certificates, court documents, land deeds and other legal and public records. In addition to microfilm creation, digitization of these records has become increasingly popular for work efficiency and public access.
Special Libraries 
All libraries are special, but by definition "special libraries" implies institutes dedicated to a specific topic. These include, but aren't limited to Presidential, medical, corporate, law and non-profit libraries.
Military
Military entities such as bases, administrative and education offices keep medical records, reports, personnel files, technical drawings and artifacts in paper or microform format. In many cases, if not all, military institutions require that the original materials stay on-site for security reasons. For this reason, they are more likely to purchase their own scanning equipment than use a service bureau.
Manufacturing
Companies that manufacture goods, tools and parts own copies of the technical drawings for each object they create. Technical drawings tend to be very large (such as blueprints, engineering drawings and schematics) and can be placed on microform (usually aperture cards) for compact storage and easy access. Examples of these institutions include medical equipment manufactures, electrical component manufacturers, furniture builders and technology manufacturers.
Transportation
Similar to manufacturing entities, transportation companies hold records of the parts and materials needed to construct the planes, trains, marine vessels and automobiles that they create as well as historical documents such as passenger records, travel and cargo manifests, corporate documents, ephemera, photos, etc. Examples of these institutions include railroad companies, automobile manufacturers, transportation museums and airline companies.
Equipment
Many of Crowley's vertical markets use the same scanners but for very different purposes. Here are the scanner types that were most popular in our August sales.
Aperture card scanners: Used by manufacturing, transportation, military and engineering companies, aperture cards can easily be digitized at a production or on-demand speed.
Archive writers and processors: For those that require microfilmed records of their digital-born content, such as government agencies, archive writers and processors are necessary for microfilm creation.
Book and large-format scanners: Archives, libraries (special and university), military and transportation entities utilize book and large-format scanners for collections with rare, fragile or oversized documents. The Zeutschel lines, exclusively distributed in North America by Crowley, are gentle on materials and can scan up to A0-size (33.1 x 46.8in.) documents. Higher-end Zeutschel models are some of the few scanners on the market capable of multi-star FADGI compliance.
Document scanners: Any institution with large quantities of loose materials can utilize document scanners for fast and accurate digitization of files, bank records, invoices, receipts, etc.
Machine vision and cultural heritage cameras: Manufacturing entities, archives, libraries and others with a need for graphic arts digitization or high-resolution inspection can utilize the MACHCAM 71 megapixel camera for integration into their own scanner, robot or stand. If you're looking for an inspection camera, look no further.
Microfilm and microfiche scanners: Institutions with large film collections benefit from the fast-paced digitization and processing features provided by production-level film or fiche scanners.
Patron microfilm reader-scanners: Libraries, archives, universities and special collections offer microfilm reader-scanners, such as the UScan+-Series, to walk-up patrons looking to scan, digitally save and share (where one had to previously use paper and pencil to record their findings, it is now as simple as clicking "save to" USB, Dropbox, email and beyond) information such as genealogical records, newspaper articles and more.
Patron book and document scanners: Similar to patron microfilm services, libraries, archives and historical societies offer high-end, user-friendly scanners like the Crowley ODS and Zeutschel zeta to patrons for fast and easy digitization of books and documents.
Win a $60 Starbucks card
What better way to demonstrate the expanse of our verticals than to play a little guessing game? The locations below are all home to the UScan+ universal film scanner. They span from libraries to insurance companies to transportation entities – but can you place them? If guessed correctly, the winner will receive a $60 Starbucks card. Hint: These historical landmarks and museums are all located in Europe. Read the additional clues at the bottom of each image, provided by our expert UK sales rep and history buff, Duncan Moule, and fill in your answers in the below form. Entries will be accepted through Friday, October 6th. Bon chance!
Interested in scanners for your collection?
If you would like more information on how The Crowley Company can support your collection digitization, please contact The Crowley Company by calling (240) 215-0224. General inquiries can be emailed to [email protected]. You can also follow The Crowley Company on Facebook, Twitter, Google+, LinkedIn, Pinterest and YouTube.
[Hannah-Clawson]