Digitization Discoveries: Uncovering a Skeleton at Penn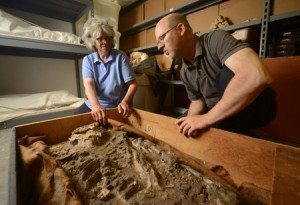 There are many reasons to digitize collections. Museums and archives primarily digitize for preservation purposes. Government entities and commercial institutions digitize for preservation and to improve records management functions. Libraries may digitize to provide enhanced media and online research access. What is often surprising about digitization projects are the hidden gems uncovered when bringing forgotten or misplaced materials to light.
This is exactly the sort of unexpected revelation recently experienced by the University of Pennsylvania (Penn) Museum of Archaeology and Anthropology, when digitized records pointed to the existence of a 6,500-year-old skeleton hidden deep in storage. According to a Penn Museum press release:
"This summer, a project to digitize old records from a world-famous excavation brought that documentation, and the history of the skeleton, back to light."
Excavated in 1929 in Ur (now southern Iraq) by Sir Leonard Woolley, this well-preserved skeleton is believed to have been a tall, older male from the Ubaid era. The recent re-discovery may help researchers find out new information about the lives and conditions of the people who lived during that period.
INTERNATIONAL COLLABORATION ON EXCAVATION AND DIGITIZATION
The original excavation was a joint venture between Penn Museum, the British Museum and the National Museum of Iraq to uncover the culture and history of Ur, noted as "one of ancient Mesopotamia's largest and most important cities, occupied from ca. 5500 to 300 BCE."[1] Over 80 years later, these three museums are working together again to digitize records and materials from the historic excavation in a project titled "Ur of the Chaldees: A Virtual Vision of Woolley's Excavations."
Ur Digitization Project Manager, Dr. William B. Hafford, states, "Because the Ur collection is split among museums around the world, it is very difficult for researchers to do solid work. Reuniting the collections digitally makes them far more accessible than they have previously been." In a personal example, he recalls, "I published an article about the Ur balance pan weights and it took me three years just to gather the data because it was so physically spread out. Even then, I didn't manage to get them all. Now we are making everything available for re-analysis and we are bound to find things that have been 'lost' in that their original records had faded from their modern display or storage."
Dr. Hafford continues, "One of the goals of this project (apart from making all data from Ur digital and accessible) is to reconnect all material from Ur to its original field records. The Ubaid period skeleton is only the most spectacular of the reconnections we have made. Many objects had partly incorrect records or, in some cases, completely missing connections to their original records after decades of storage."
There are many nuances in the data to be discovered as this project is digitized and pieced together. As Dr. Hafford explains, "With a virtual reconstruction of the excavation, all data will be much more accessible and will make for a better re-evaluation of the site as a whole as well as research into specifics of the ancient city." He expands, "With Ur, there are a myriad of ways to approach the data. The ancient artifacts can be examined and so can the architectural layout, the placement of graves, distribution of artifacts, and various other things. Furthermore, there are historical records to be investigated showing the process of excavation and archaeology in the early 20th century. Thus this data has impact on much more modern history as well as ancient. There are undoubtedly previously unexplored paths that will lead to exciting new understandings."
SCANNING FOR TREASURE
Crowley Imaging specialist Meghan Wyatt, who has worked extensively with museums, archives, universities and more to digitize their collections, knows first-hand how unforeseen information can be revealed through digitization. She notes, "Every imaging project we work on uncovers new information, whether minor or significant. For example, we scan collections from genealogical and historical societies which allow people to discover new branches in their family tree, elements of their cultural heritage, and much more."
From skeletons to ancestors, there's a lot to discover through digitization – expected and unexpected.
NOTE: While not being used for the Ur digitization project at this time, The University of Pennsylvania owns three Zeutschel book scanners: two zeta Comforts and one OS 12000 C Comfort. These scanners are utilized in the Van Pelt and Fisher Fine Arts libraries for Interlibrary Loan services. (The title "Comfort" in the scanner name means that it comes with an adjustable book cradle, which allows for gentle scanning without causing harm to the bindings.)
Questions about digitization services or equipment?
If you have any questions about outsourcing the digitization of your collection with Crowley Imaging or would like to find out more about our digital scanning product offerings, please contact The Crowley Company by calling (240) 215-0224. General inquiries can be emailed to [email protected]. You can also follow The Crowley Company onFacebook, Twitter, Google+ , LinkedIn, Pinterest and YouTube.
Author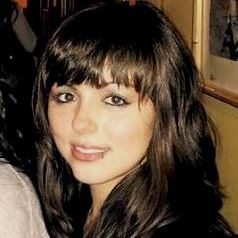 With a bachelor's degree in Mass Communication from Towson University, Camily Bishop serves as The Crowley Company's sales and marketing assistant. A self-proclaimed member of the grammar police and avid reader of classical fiction, you can find her curled up with a good e-book or, on a nice day, experiencing the great outdoors – perhaps at the nearest wine festival.