Road Scanner, part one
(Introduction written by Debbie Harris, Crowley's director of technical services)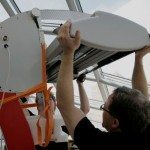 It is rare when a big box scanner moves from one location to another on a regular basis. And by "big box," I mean BIG box…in this case 575 crated pounds of overhead large-format scanner. It is even rarer when it's the client who is doing the moving. When Chris Irelan of Overland Conversion set out to digitize books and documents, he meant it literally. So, in cooperation with The Crowley Company's service team and a special depot coverage contract, Irelan was trained on the installation, un-installation and general care of his Zeutschel 12000 C scanner so that he could take it on the road. Today, his scanner has more miles than my 2012 Silverado. While I would be hesitant to call the scanner "like a rock" and even more hesitant to recommend road travel with a 12000 C, Irelan's Zeutschel has traveled well with only a few bumps and bruises. In his own words, Irelan describes traveling with his Zeutschel scanner:
"When I was in the planning stages of Overland Conversion, I knew that I needed a superior bound-book scanner to meet the expectations my business partner and I had set. Having firsthand experience with competitive units, such as ATIZ and book2net scanners, we wanted something different.
In came Crowley and the Zeutschel 12000 C*. It had the sophisticated software that I wanted and was known for its top quality and for being the most dependable scanner on the market. After purchasing the Zeutschel from Crowley, there were some concerns expressed [by Crowley] over my intended use of the scanner. The Zeutschel is expected to be a permanent fixture, never moving once it's set up. Overland Conversion is a mobile scanning service and will never have a permanent facility from which to operate; many see this as the future of the industry right now. This means that any scanner I use needs to be disassembled, boxed, ride on a bumpy road for hundreds of miles at a time, adapt to extreme weather conditions, be unboxed, reassembled and then…work as expected and designed.
I am more than pleased to say that my Zeutschel performed exactly as I hoped. Over the last year, 'Z,' as we affectionately call the scanner, traveled 30,000 miles via trailer over interstate and highway roads and up and down mountains through Iowa, Illinois, Wisconsin, Indiana, Missouri, and Arkansas. 'Z' witnessed extreme weather conditions, going from 30 degree temperatures in Wisconsin to 99 degrees in southern Indiana within eight hours' time to being stored for an extended period of time in near zero and subzero temperatures. 'Z' was set up and broken down for 12 different projects and each time worked to the top of its ability, producing hundreds of thousands of high quality images.
Not only did the Zeutschel meet my expectations, after recent routine maintenance performed by Crowley, it was determined the scanner itself exceeded theirs. After all the scanner had been through, it hadn't experienced anything but regular wear and tear."
HAVE SCANNER. WILL TRAVEL. (But we don't recommend it).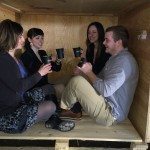 I've seen the size crate a Zeutschel 12000 is shipped in. One crate could house my family and leave room for company. I also know from their utilization in Crowley's service bureau that these scanners are finely engineered and frequently calibrated. They simply don't – and shouldn't – move once they are set into place. Which makes this story so unusual.
As Debbie explains, "This is obviously a very unique case. We worked with Chris [Irelan] to create a service agreement that would protect both Overland Conversion and The Crowley Company. In a typical depot contract, the equipment is sent to one of our service locations for repair. In this case, we had to agree in advance that any damage from transit could not be covered in the contract because we could not be sure of its origin. Additionally," she continues, "any time the camera head is disconnected from the scanner, as it must be to assemble/re-assemble when Chris moves the scanner, the system must be calibrated to produce the best images. This is typically only done by a certified and trained technician. In this case, we worked closely with Chris to train him in safe transport."
NEXT WEEK: Q&A with Chris Irelan
The above account is a marketer's dream. I want to make a movie. Write a book. I envision Chris Irelan as a pioneer and the Zeutschel on a covered wagon, coming perilously close to being lost in a Mississippi River crossing. Cue music and the baying of wild animals. As interesting as the tale tells, I want more. Next week's blog will share the details of traveling with 'Z' and what types of projects Overland Conversion finds on the road.
*The newest generation of the 12000-series is the 12002 C
Want to know more about Crowley's technical services division?
We understand the substantial investment that goes into every equipment purchase. To protect this investment, Crowley offers scanner owners a complete range of technical support services with multiple maintenance options to fit client needs and budgets. Expertly trained technicians are available to provide high-quality support when you need it, where you need it. For more information, visit our website or contact (240) 215-0224.
The Crowley Company is a full-solution imaging partner. From micrographics equipment and microfilm to desktop and production scanners to patron systems and conversion services, The Crowley Company has aided records managers, archivists, librarians, researchers, students and others throughout the world with archival preservation, records management and digitization solutions.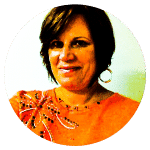 Cheri Baker, Crowley's Director of Communications, has a career that spans the realms of agency and corporate communications. She's a firm believer in common sense, good grammar, nice manners and a bit of fun. Find Cheri Baker on Google+
2 Responses