Running the London Marathon
Editor's note: On Sunday, April 26, 2015, Chris Wilson, 24, ran his first marathon and did so for a great cause. Chris is the son of John Wilson, Crowley's Wicks and Wilson division General Manager, and shares his marathon journey with us as this week's blogpost. We congratulate Chris on this significant achievement…and add (in a shameless marketing plug) that our Wicks and Wilson brand aperture card and microfilm scanners have been going the distance since 1974. Wicks and Wilson (and Chris and his family) is located in Basingstoke, England, about an hour from London.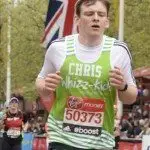 February 6th. The day I "won" the right to run the Virgin Money London Marathon by having my name pulled to fill one of the spots allocated to my company, the BMW Group. While the London Marathon has always been on my bucket list – my initial reason for volunteering – it still didn't help the panic that set in when I was told I'd be running. I was absolutely terrified at the prospect of running 26.2 miles – especially because I hadn't actually been involved in a recorded run further than three miles.
As there were only 79 days until race day, I had to get straight on with a training plan. The first thing I got sorted were my running shoes, as I knew this would be the most important thing to help me avoid injuries and run in comfort over long distances. I went to a specialized running shop, bought a pair of Adidas Boosts, and hit the road.
I started off my training at distances around five miles and built up gradually over a few weeks to the 11 mile mark.
March 22nd. I decided that the local Vitality Reading Half Marathon would be good preparation for the full distance. I ran this in aid of Alzheimer's Society, in support of my Grandad who had been suffering with this disease over the last year.
The event was a great success and I smashed my target time of two hours with a finishing time of 1:54, raising £105 for a great cause.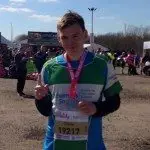 After Reading, my longest run to date, I began to increase my distances in the lead up to the Marathon itself. I got a couple of 13 and 15 mile runs under my belt and averaged about 20 miles of training a week. With just five weeks between the two events, I didn't have much time to do any more due to the recovery times required between these longer runs.
The fundraising was going well throughout my training. A friend helped to design an eye-catching poster to help get further donations.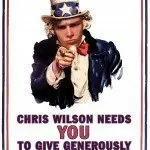 April 26th. After "carbing up" and tapering down in the last week before the big day, I felt confident and excited at the same time as being extremely nervous about running the full 26.2 miles.
The 90-minute journey from Basingstoke to the start area in Greenwich, London felt much longer on the morning of the event. I made sure to keep calm and warm while eating plenty of flapjacks, bananas and energy jelly beans – by the far the most enjoyable part of the journey!
Luckily, it was quite a cloudy and cool day, unlike the hot, sunny days in the week leading up to it. This helped to settle the nerves while waiting in the start area.
After the longest half an hour of my life walking with a mass crowd to the official start line, we were ready to go. I was surrounded by some hilarious fancy dress outfits, so looking out for these at least helped pass the time. The most notable outfits include a 10' lighthouse, a pack of rhinos and an (almost) life-sized T-Rex.
After watching more than 100 people dash in a panic to the portable toilets just before the start, I set off on the biggest challenge of my life…
My goal was to run the distance in around four and a half hours, so I hoped to average roughly 10 minutes per mile to hit this target. I was determined to run the entire marathon and not walk, so I set off on a steady pace to make sure I had enough left in the tank for the latter stages of the run. My first couple of miles took about 11 minutes each due to the runner traffic (over 35,000 of 38,000 entrants finished), but then I settled into a consistent pace.
I was told that breaking the race down into memorable milestones would help, so my first target was to get to the Cutty Sark boat on Mile 6. I did this without any problems. It was an amazing sight and helped to propel me forward to the next stage – Tower Bridge at Mile 12.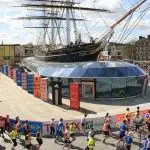 Prior to running the marathon, I didn't quite understand what people meant when they said that the crowd "carries you" on this great event. Now I do. It felt like the crowd was physically dragging me through the miles with every "Go on Chris!" and "Keep going; not long left now!" (even when there was a vast distance left to cover). I would massively recommend to anyone thinking about running a marathon to have your name printed on your running shirt; the lifts you get from total strangers screaming your name is invaluable when going through this amount of arduous pain! Around 750,000 people were on the streets to cheer the runners on and the atmosphere was electric. At the earlier stages of the race, I made sure to give a thumbs up and a wave to anyone cheering me on by name…by miles 23 and 24 all I could muster was a single finger or a slight flicker of a wave to acknowledge their support.
Tower Bridge was undoubtedly my favourite part of the race. As the iconic bridge came into sight, I could feel the crowds thickening and getting louder, giving me an extra buzz to pass through this monument just before the half-way point.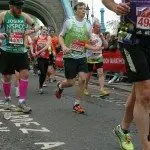 After running through TowerBridge, I was feeling pretty good about myself and all nerves were out of the window. I passed the halfway mark at two hours, 16 minutes, which I was pleased about, proving that my pace so far had been spot on.
Running through the business district of Canary Wharf at around the 16 mile mark, the crowd thinned out slightly but was still a massive boost in helping me stave off the pain that was starting to creep in. After stopping for a two-minute toilet break, I pushed on through the seizing pain.
At Mile 19, I saw my Dad and his girlfriend – good timing as it really helped me through the beginning of the last quarter of the race. At Mile 20, the aches and pains in my legs were beginning to hit hard. I told myself that the remaining six miles were nothing compared to the 20 I had already gone through. This was quite disheartening when I realized that this meant another hour of running!
My determination, mixed with the support and buzz I got from the crowd, kept me going and I actually clocked up some of my fastest times between miles 22 and 26 with the light at the end of the tunnel now firmly within sight.
After overtaking a man dressed as Pamela Anderson in full Baywatch outfit, a 15' tall giraffe and Keith (below, whom I know because that's who his shirt says he is), I passed Big Ben as it bonged three times to signify 3 pm. I was nearly there.

Before the race, I joked that the extra 0.2 miles on top of the previous 26 would be a killer on the legs. It really was. In terms of the atmosphere, though, it was amazing. I felt like I was getting a heroes welcome as I came into the final stretch in front of Buckingham Palace.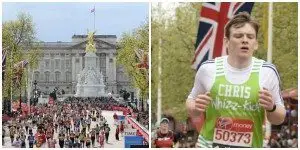 I ended up crossing the line in 04:31:22, which I was absolutely delighted with – mainly for the fact that I ran the entire distance (apart from the 2 minute toilet stop, obviously), but also because I met my target time.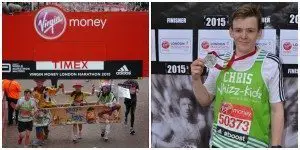 At the end of the day, the most important thing was the cause that I was running for – Whizz Kidz. They're a great charity that supplies bespoke electric wheelchairs for disabled children, allowing them to play and be mobile as every child should be able to. For more information or to donate, visit www.whizz-kidz.org.uk.
As of last week, and thanks to a match by my employer, the BMW Group, I have raised £2,274.94 at my fundraising page: www.justgiving.com/wilsonswhizzaroundlondon. I would never have dreamed of raising such an amount and was actually quite worried about whether I could even raise the £1,600 target given as a condition of joining Team Whizz Kidz, but I'm absolutely delighted at smashing this figure. Special thanks to everyone who has donated, including The Crowley Company, who helped me out with a very generous contribution.
At the end of this journey that began only three months ago, I can safely say it's been the best thing I've ever done and I'm so proud of myself for the achievement. The support I received during the build up and the Marathon itself made me feel genuinely emotional and moved. I'd recommend it to anyone, as if I can do it, anyone can. I will definitely think about running the marathon again but I think a few weeks rest are in order first!
Thanks for reading,
Chris Wilson (#50373)