Raising the Dead (or) Lost in Translation: The Microfilm Brouhaha
With the recent FamilySearch announcement that it will discontinue its microfilm distribution service has come confusion about the availability and necessity of microfilm. Three days after the announcement, we received this email (edited for space) from a family history librarian and archivist:
"…I'm not sure how familiar you are with the family history community, but it was recently announced that FamilySearch is discontinuing its microfilm services.  Additionally, a reputable family history blog claims that this development is because FamilySearch 'cannot buy any more blank, unexposed microfilm. The manufacturers of microfilm have all stopped production.'   
Being that microfilm is the archival standard for long-term preservation, I find it difficult to believe that truly none is being produced. Could you offer some insight on this statement?"  
Yes; we can! But first, let's clarify the announcement which has two parts, just as there are two parts to microfilm: preservation and digitization.
Preservation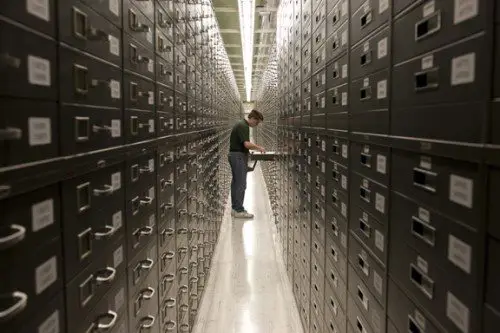 Microfilm was created as a medium to preserve records. In its true analog form, it is an exact copy of the original (no fear of digital alteration). When stored properly – an important caveat – it can last up to 500 years. No other medium has yet proven to have that kind of staying power. Additionally (and perhaps put too simply), all that is really needed to access microfilmed records is a light source and a magnifying glass. Should the zombie or any other apocalypse occur, microfilmed records can hold the key to historic information and images in a manner that is accessible sans power source. That's preservation.
Many organizations in the government, financial, insurance and archival sectors still require that certain records and images are written to microfilm. Why? Because retrieval is not dependent on access to power or machinery (although both certainly make the task easier). These institutions also use microfilm as part of their disaster recovery plans for digitized materials. If and when digital files are lost or corrupted (it happens), microfilm scanners and/or scanning services can be employed to re-digitize the images from the microfilm master. For this reason, microfilm is still manufactured and available (more below), despite the announcement's claim of "obsolescence of microfilm technology." It's also the reason that FamilySearch and so many others maintain their microfilm masters.
Digitization
One of the primary issues with microfilm preservation is that it doesn't make for easy access and retrieval. It's a physical medium that requires a physical residence – a library, a museum, an archive, a records room. It requires physical effort (a trip to the residence) and some sort of microfilm viewer. Fortunately, today many libraries and record rooms use all-in-one scanners such as the UScan+, which allow patrons to easily find (via OCR and search speeds), view, save or digitize microfilm images. For large collections, however, a universal scanner is not an adequate option. Enter digitization.
According to FamilySearch, the decision to discontinue the distribution service is "the result of significant progress made in…digitization efforts." Taken as a whole, this is good news! In just three short years there will be a total of 2.4 million rolls of microfilm available online. This could mean anywhere from two to six BILLION images at your fingertips, depending on the size (16/35mm) and length (100', 250', 1,000') of the microfilm roll. The numbers are mind-boggling.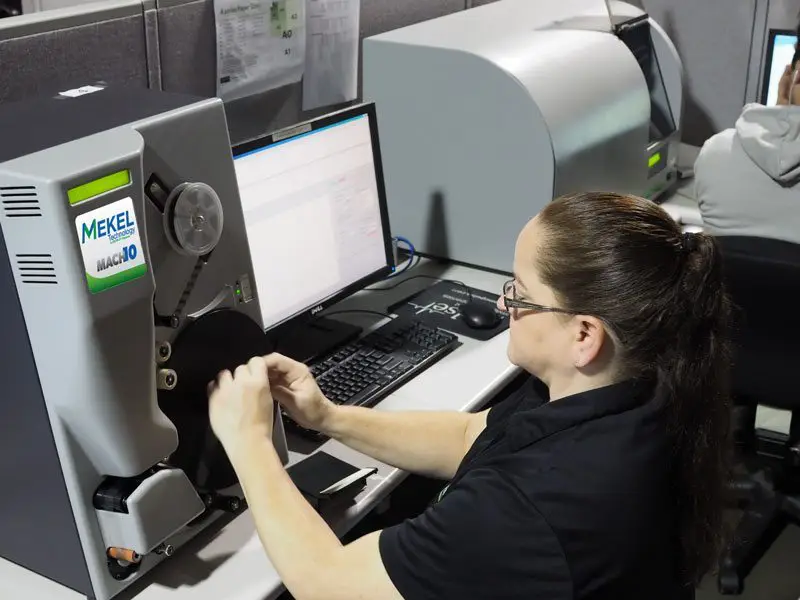 As a manufacturer of microfilm scanners, some of which are owned by FamilySearch and Ancestry.com, and provider of digitization services, we can attest to the investment and foresight that this type of effort commands. On just a high level, the investment covers microfilm acquisition, microfilm storage, microfilm scanners, operator manpower, post-processing and a vast IT infrastructure. Truly, FamilySearch does not take the sharing of this collection lightly and is committed to its success.
Much of the concern noted by genealogists, understandably, is about the lack of access to the microfilm rolls that are not yet scanned. For some, this could mean a significant three-year delay in their research if they are unable to travel to Salt Lake City, Utah and the Family History Library. Additionally, there may be microfilm that is not available at all without a trip to Salt Lake City because of owner permission issues relating to digitization. FamilySearch considered this when making the decision for discontinuation and has offered several solutions (read the comment s to their announcement for detailed information), encouraging the requests of "extended loans" for microfilm that would cover this period and beyond.
The Current State of Microfilm
The Crowley Company has its roots in microfilm while continuing to lead the industry in digitization solutions. Understanding the medium while exploring new technologies allows us to plan for the future while protecting the past. Today, there are several well-known manufacturers of microfilm – Agfa (distributed in the United States under the IMAGELINK brand, which is sold by Crowley); Fujifilm (offered in Europe, Middle East and Africa by Crowley partner Genus, which also manufactures Diazo microfilm); Coveris and Exopack. Archive writers (machines that write digital files to microfilm) and microfilm cameras,  duplicators and processors also continue to be manufactured and sold, although at a much lower rate than before the advent of digitization tools.
Does microfilm enjoy the popularity it once did? Absolutely not. Advances in technology have provided cost-effective, efficient options to sharing information via digitization. Is microfilm still necessary for preservation? Absolutely.
Perhaps Paul Negus, managing director of Genus, sums it up best when he says, "Genus is now actually manufacturing Diazo film in the UK. This is a new investment in a microfilm product – not something you do if microfilm is declining." We applaud FamilySearch's commitment to sharing their archives via digitization while also preserving their originals. Both are important.
For more information on microfilm types, visit our website. For information on microfilm digitization or archive writing, contact our imaging department.
Update: As of 2023, IMAGELINK has discontinued their production of microfilm. The Crowley Company still supports those with micrographics collections through microfilm hardware to facilitate the creation, duplication, digitization and sharing of microfilm collections. 
ABOUT THE CROWLEY COMPANY
The Crowley Company is a full-solution imaging partner. From micrographics equipment and microfilm to desktop and production scanners to patron systems and conversion services, The Crowley Company has aided records managers, archivists, librarians, researchers, students and others throughout the world with archival preservation, records management and digitization solutions.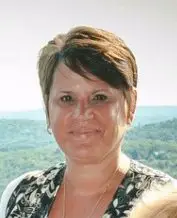 Cheri Baker, Crowley's former Director of Communications, has retired but retains her love for writing and all things Crowley. With a career that spans newspaper, agency and corporate communications, her goal remains to dig behind the scenes and tell the story - whatever it may be. Find Cheri Baker on LinkedIn+
One Response