Zeutschel 12002 Scanner Enhances Milton Public Library's Local History Resources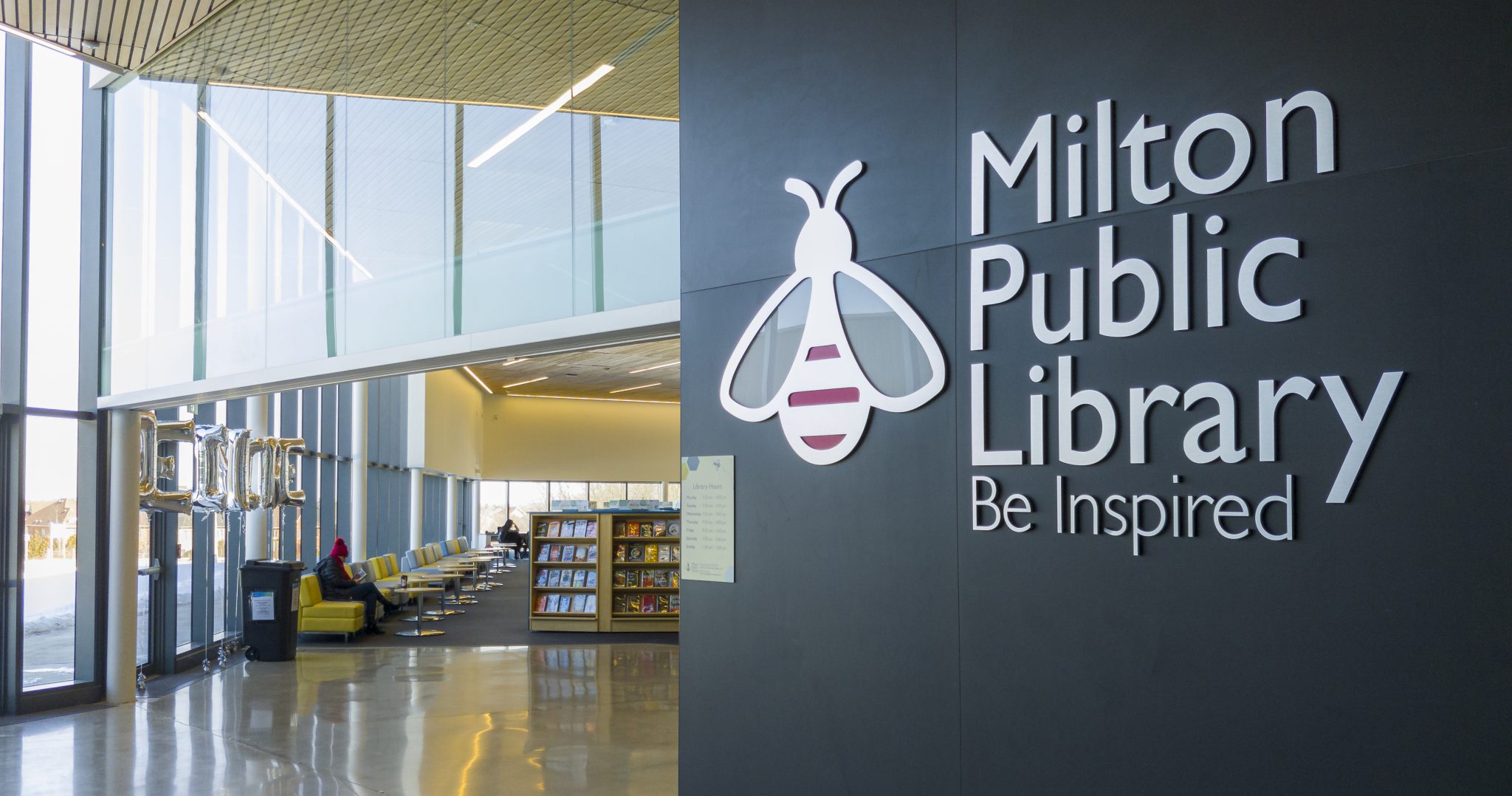 Over the past 160 years, the Milton Public Library has evolved from a small mechanics' institute which served 29 members to a bustling public library network which now serves one of the fastest-growing municipalities in Canada.¹
With the goal of empowering the 130,000+ residents to read, learn, create and connect, the Library staff is constantly developing new ways to better serve its flourishing municipality. Recently, these efforts have included a push toward digital access to valuable research information through digitization. Mark Williams, Milton Public Library (MPL) Chief Librarian and CEO, and Kanta Kapoor, Manager of Support Services  shared a little about the library's digitization goals and how their Zeutschel book scanner is helping to preserve rare materials while offering Milton's growing population a resource into the area's history.
Growing Community, Expanding Access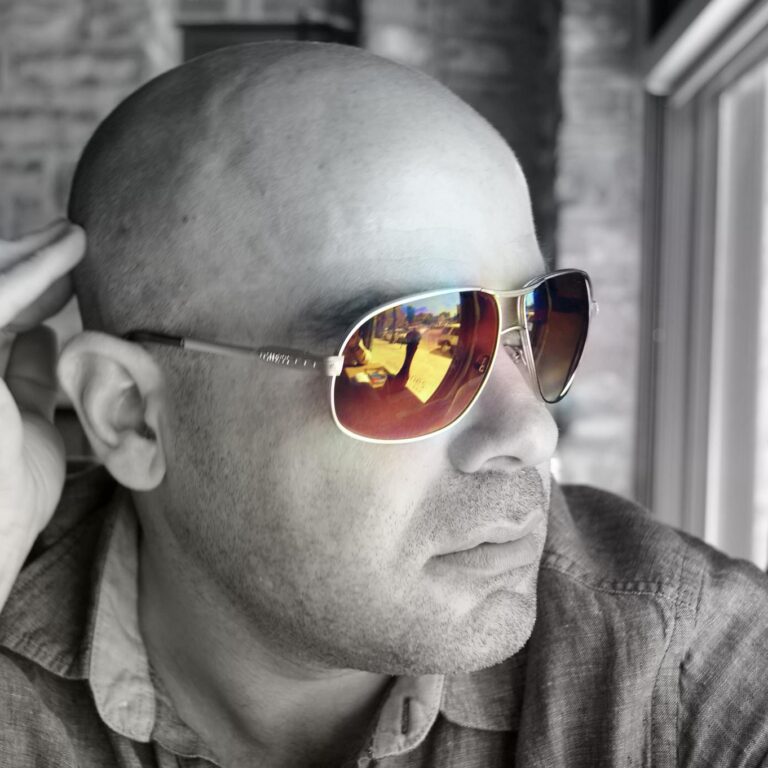 Even before this rapid rise in patronage, automation and ease of access were – and continue to be – a critical part of the Library's growth plan. Kapoor and Williams have both been recognized for their efforts in incorporating beneficial technology into MPL's efforts. Just recently, Kapoor has received the Ontario Library Association (OLA) Technical Services Award for her work on establishing a mobile app for the library. In late 2021, she was also recognized with the Internet Archive's Hero Award for her leadership in "making information available for digital learners all over the world." In 2019, Williams was recognized with the Public Library Association's John Iliff Award which honors "a library professional or library that has used technology and innovation as a tool to improve services to public library users." Digitization is the next step in their already successful (and highly effective) outreach plan.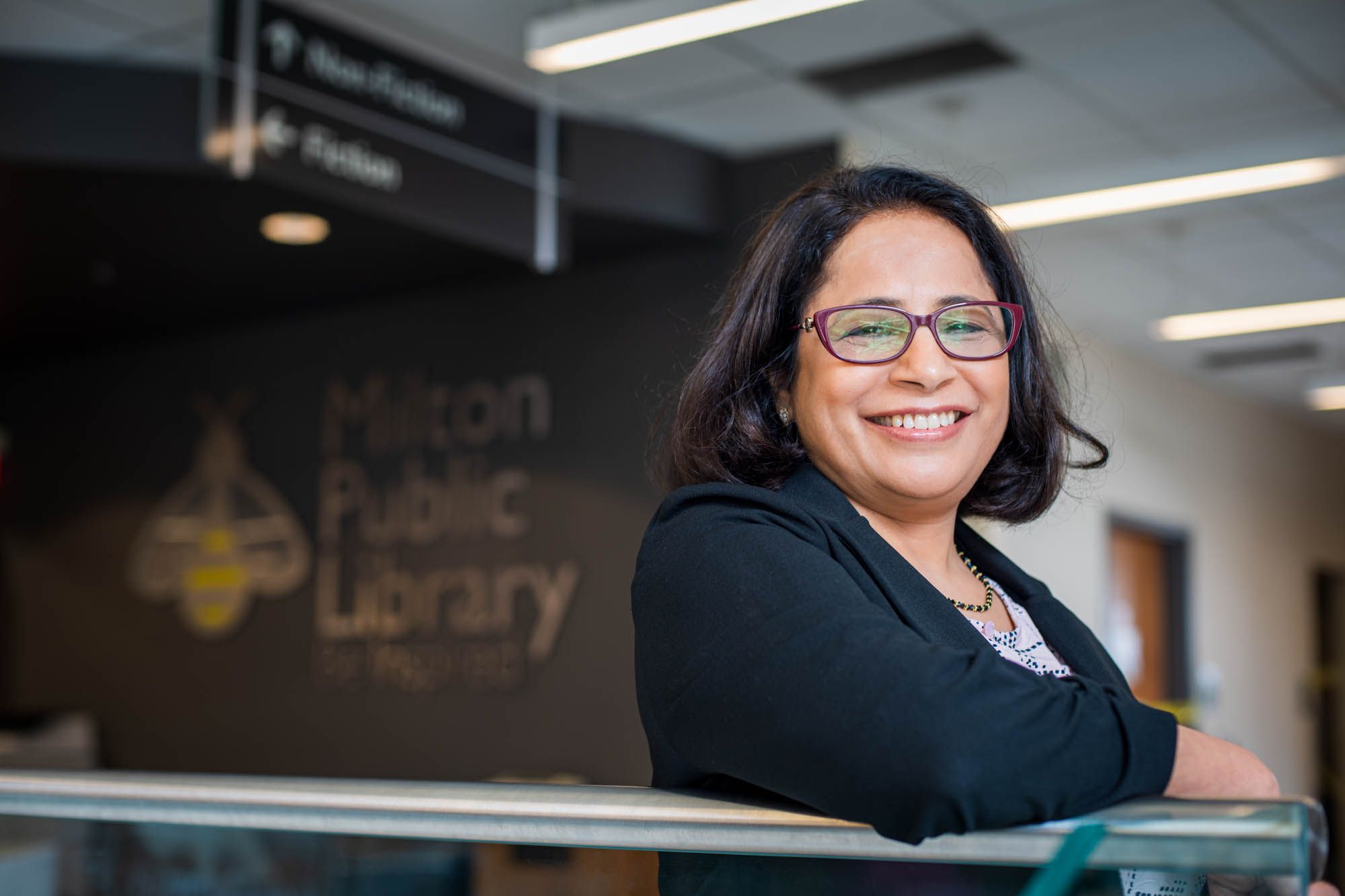 Currently a three-branch operation, MPL is planning to add five more branches by 2024. According to census information, the Library boasts a 71% cardholder rate in 2019, one of the highest among all Canadian Urban Libraries (and a 54% increase from their 2018 numbers!).
Why Digitize?
According to Kapoor, MPL's holdings include a variety of traditional print materials such as books, magazines and comics as well as multimedia resources such as videos, music, books on tape, online magazines and more. The library also holds historic and local history collections which include newspapers, scrapbooks, yearbooks and more materials which date back to the 1850s.
MPL's motivations for digitization are three-fold:
Provide patrons with widespread digital access to information
Preserve fragile materials without risking damage to originals
Create images for Controlled Digital Lending (CDL)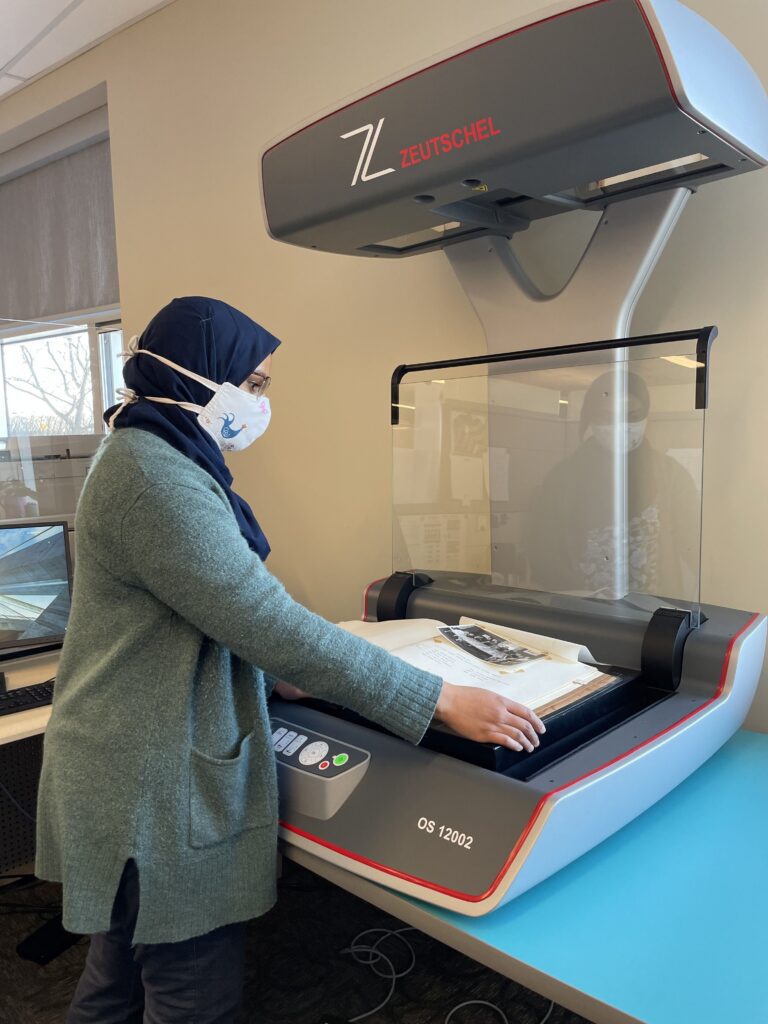 The local history and genealogical collections are MPL's primary focus as the start of their digitization plan. Kapoor and Williams both emphasized the importance of making these records accessible as a way of connecting patrons with the past. For newcomers to Milton, these historic materials can provide a deeper understanding of their newfound home. For established citizens, the collections provide resources to discover genealogical information.
MPL purchased a Zeutschel 12002 Advanced in 2021 to help the Library achieve their goals. The Zeutschel overhead and book scanner was selected for its ease-of-use, image quality, OmniScan software efficiency and in-software OCR capabilities.
Williams spoke to the selection process in a way that struck me as the overriding intention of nearly all scanning projects. "As a non-technical person, I'm looking at [the Zeutschel's output images] through the lens of, 'How much like a physical item is this digital image going to be?' What spoke to me is that [the scans] looked like a physical item in a digital format."
It sounds so simple, but that is the true objective of nearly all scanning projects.
Overcoming COVID Challenges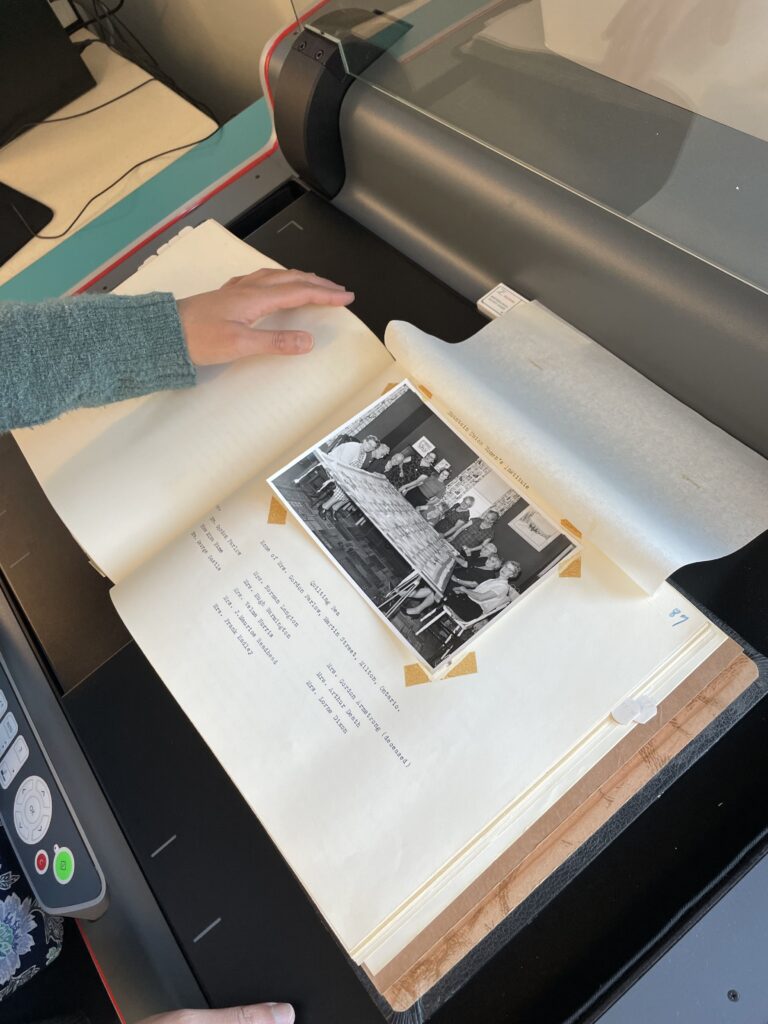 In accordance with COVID-19 travel protocol at the time, installation and training of the 12002 overhead scanner took place remotely. Williams was skeptical, "When the idea of remote training was noted, I can't say I was overly enamored…The nervousness around the efficacy of the virtual training didn't actually translate because it went really well!"
Using the knowledge gained from that initial virtual training with Crowley's technical staff, Kapoor and Anah Mustapha, MPL's local history and digitization librarian, were able to train additional scanner operators. Post-training, Crowley's technical services team provided a simple script for automatic transfer of the final digital images from the Zeutschel's local PC to the Library's server, adding efficiency to their overall process.
Currently, Mustapha and her team are in the process of completing the library's first scanning project on the 12002 overhead scanner – a collection of original scrapbooks created by local women's institutes. These bound scrapbooks include photos, meeting minutes and more which detail everyday life, agricultural practices, events and more during the early days of the municipalities.
The images from this collection and others scanned on the 12002 are available to the public on Milton Digital, MPL's digital collection repository.
Looking Forward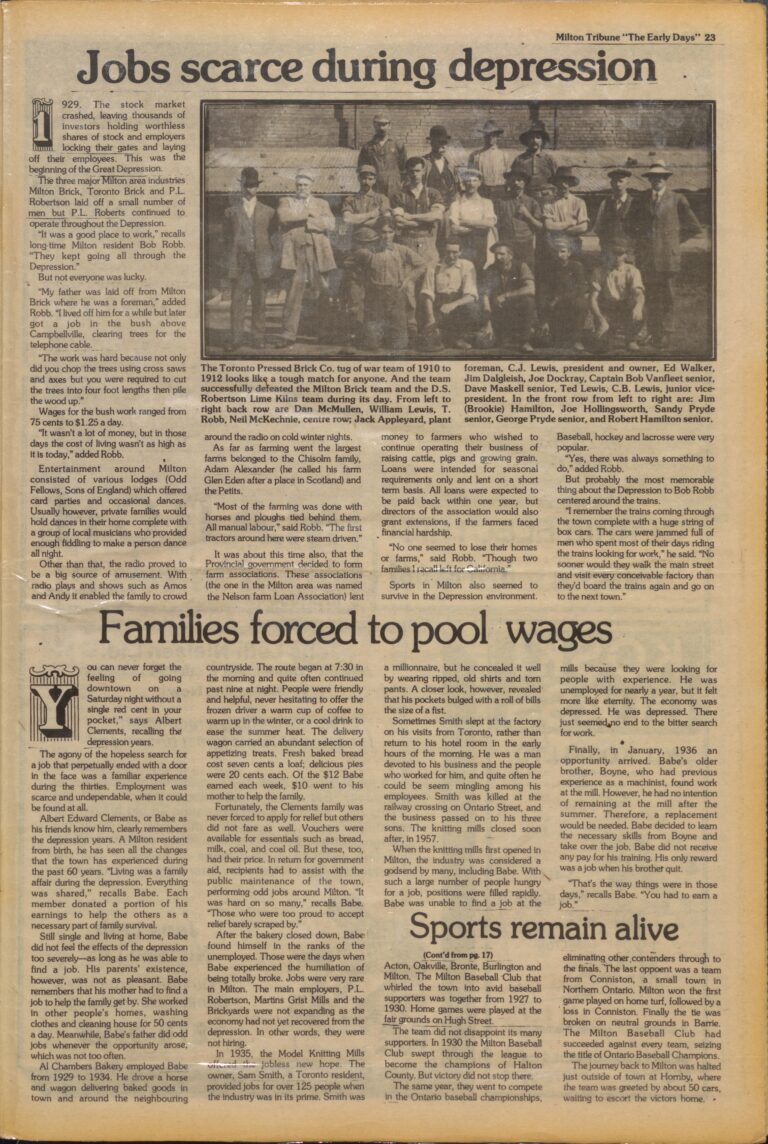 Williams and Kapoor emphasized that there are many other projects lined up for scanning. They are also planning to make the scanner available to patrons and other nearby institutions that have critical archives, records, photos and other materials for digital conversion.
We will certainly be keeping our eye on Milton's development and are excited to see the innovative ways in which they continue to serve their community. Keep up with Milton Public Library at www.beinspired.ca
Listen for Yourself!
Interviewed by Crowley's vice president of sales and marketing, Matt McCabe, Kapoor and Williams shared all this and much more during a recorded case study that was presented at a recent Zeutschel 12000-series webinar. If you have the time, I highly recommend watching the full conversation as provides additional context on the importance of creating accessible digital collections and shares more about the library's impressive efforts both in and out of their scanning efforts.
CREATE ACCESSIBLE RECORDS AND ARCHIVES
No matter the collection material, fragility or volume, Crowley's industry-leading scanners and services for historic collections provide safe, high-quality digitization of all cultural heritage media. For those seeking FADGI four star-rated images, Crowley offers the Zeutschel OS Q– and ScanStudio-series. Contact your Crowley representative, call (240) 215-0224 (U.S.) or request a quote to learn more about the solution options to capture your most precious collections.
---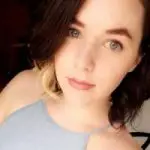 Hannah Clawson is The Crowley Company's Communications Coordinator. After working in the Technical Service department for two years, she is happy to put her technical knowledge and communications degree to good use in another facet of the company. When not traipsing the halls of Crowley, she can be found cruising vintage stores, writing about her favorite bands or at a local rock show.