InoTec Scanners Certified for Papervision® Capture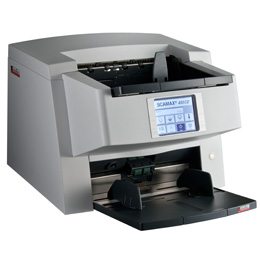 Frederick, Maryland, USA and Wolfersheim, Germany – Matthew McCabe, vice president of business development for The Crowley Company, reports that InoTec high performance scanners have recently been certified for Digitech Systems' software product PaperVision® Capture.The certification is valid for InoTec models 4×1, 4×2, 4×3 and 51x. "This is an important step in furthering the credibility and proving the efficiency of InoTec scanners, which are utilized worldwide and beginning to gain a significant foothold in North American markets." The Crowley Company is the exclusive North American distributor of InoTec products.
"The combination of InoTec's high performance scanners and PaperVision® Capture software provides users with an efficient world-class solution for document capture," explains Sean Morris, Sales Director, Digitech Systems. Peter Schnautz, CEO of InoTec GmbH, notes the importance of the certification to InoTec's expansion into North America. "Cintas Document Management, a BPO in the Netherlands, was the first to employ this total solution to its scanning services. The success of this project gives us a strong case study for BPOs, VARs and integrators around the world. PaperVision® Capture is a highly scalable and flexible system for data capture and document indexing with a very attractive cost-performance ratio. It pairs well with InoTec's already reliable and efficient document digitization features."

Notes McCabe, "InoTec document scanners are designed for 24/7 volume and use. The units stand out because of their rugged construction and ease of handling in both operation and maintenance. The option to include PaperVision® Capture is just one more feature that makes the InoTec models, which are ISIS™ and TWAIN driven, a competitive choice for document digitization and records management."
About InoTec
InoTec GmbH optimizes business processes with technically precise and reliable document scanners made in Germany. InoTec scanners are used wherever vast amounts of documents have to be scanned and optimum reliability is a key requirement. Scanner throughput ranges from 90 images per minute simplex up to 460 images per minute in duplex. InoTec ensures worldwide service through distribution partners in every corner of the world.
About Digitech Systems
Digitech Systems, Inc. enables businesses of any size to more effectively and securely manage, retrieve and store corporate information of any kind using either PaperVision Enterprise Content Management (ECM) software or the world's most trusted SaaS ECM service, ImageSilo. Digitech Systems continues to raise the standard of excellence in the ECM sector, as evidenced by the numerous awards they have received including the InfoWorld 100, CRN's Emerging Tech Dynamos and multiple Nucleus Research ROI Awards..