Crowley Company Overhead Document Scanner (ODS) Receives Gold in 2019 Modern Library Awards Program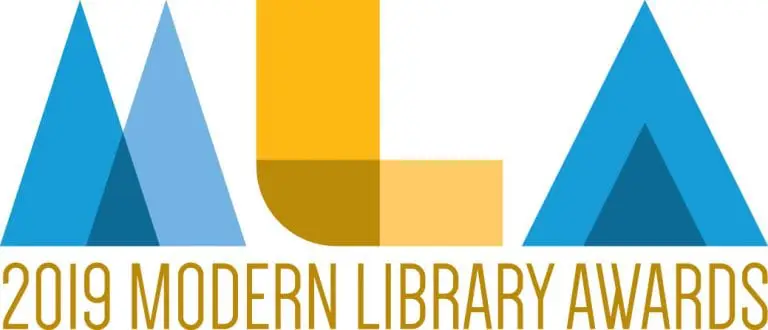 Frederick, Md. – The Crowley Company (Crowley), a worldwide leader in digital scanning solutions and scanning services, is pleased to announce that for the fifth consecutive year the firm has been awarded high honors in LibraryWorks, Inc. annual Modern Library Awards (MLA) program.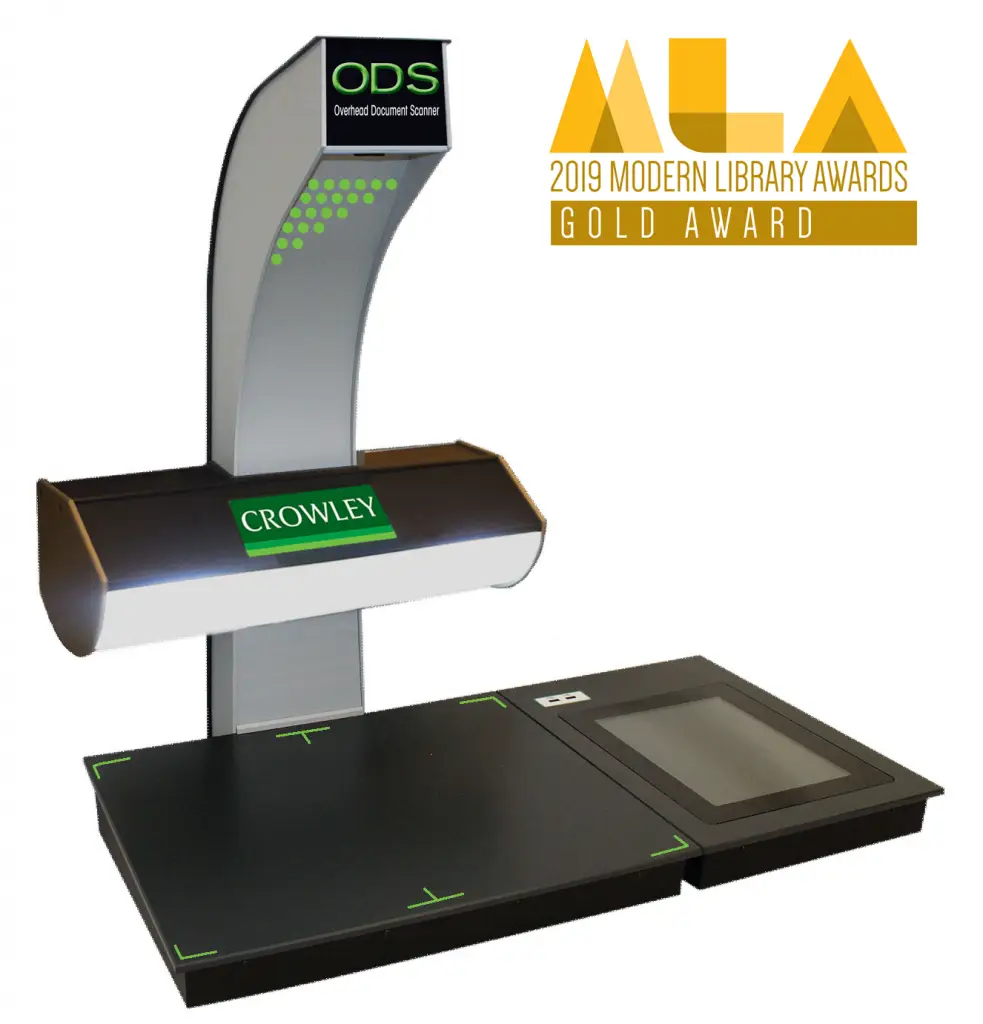 Submitted for its first time, and the only Crowley submission in 2019, the Crowley ODS book and document scanner received a gold award by library end-users.
"The ODS has made a significant dent in the patron scanner market for libraries," notes Matt McCabe, Crowley vice president of sales and marketing. "In pairing good image quality and an easy interface for users of all abilities with affordability, the ODS book and document scanner fills a void, allowing smaller libraries and those with multi-scanner needs to provide today's digital technology to their patron base at a cost that fits tight budgets."
The ODS scans flat and bound materials such as books, documents and photographs, creating digital images in a variety of outputs including PDF and JPEG that can be saved to a library patrons' USB or cloud account, printed or emailed.
About MLA
According to LibraryWorks, the Modern Library Awards were created to recognize the top products and services in the library industry in an unbiased format. Products and service applications were submitted in the Fall and then posted to a private site with an enhanced description and attendant materials. The products were then batched into small groups and sent to the LibraryWorks database of more than 80,000 librarians at public, K-12, academic and special libraries. Only customers having experience with the products or services submitted were permitted to judge, using a scale of 1-10 regarding functionality, value and customer service. This judging method results in a truly unbiased score notes Jennifer Newman, LibraryWorks publisher and MLA program manager.
Newman remarks that "Crowley is a well-known scanning and imaging services vendor in the library community, reflected by their 16 cumulative Modern Library awards since the program's inception. Their consistency in the MLA awards reflects the consistency of their organization and the products they offer to the library community."
Past Crowley Awardees
Many of Crowley's library scanner and document scanning service offerings have been awarded since the inception of the MLA program. Past recipients include:
Crowley Imaging. Received the program's highest honor, platinum, in 2017 and 2018 and named Service of the Year in 2017. Imaging services (also known as digitization or conversion services) are utilized when a library has collections to preserve or share but which may not have the expertise, equipment or personnel to perform digitization in-house.
Zeutschel OS 14000. A four-time recipient, winning a platinum award each year since 2016 and silver the year prior, the OS 14000 is an archival preservation scanner for large-format media such as newspapers and maps. Designed to be gentle on bound and fragile materials of all sizes, the OS 14000 scanners have become a staple in libraries that host special collections and which seek to preserve the original materials in digital compliance with their country's highest specifications and guidelines.
Mekel Technology MACH-series microfilm scanners. Manufactured by The Crowley Company, the MACH-series scanners are two-time gold award winners. Scanning up to 1,000' rolls of microfilm in nearly any condition, the MACH-series provides superior image quality (meeting National Digital Newspaper Program standards) and is used by libraries and archives worldwide.
Zeutschel zeta. A multi-year honoree, garnering both gold and platinum awards since the program inception, the zeta is a walk-up book scanner for students, researchers and staff. It was one of the first scanners touted as a replacement for traditional copiers and brought today's technology into hundreds of U.S. and international libraries.
UScan+ Universal Film (UF) scanner series. Another multi-year gold and silver winner manufactured by The Crowley Company, the UScan+ series is a replacement to old reader-printers found in many research and reading rooms and are used by patrons to view images from microform, including microfilm, microfiche, aperture cards, photo negatives and slides.
Click here for a full PDF of award-winning Crowley scanners and digitization services for libraries. For information on all Crowley manufactured and distributed scanners and services, visit www.thecrowleycompany.com
###
About The Crowley Company
The Crowley Company is a world leader in digital scanning technologies and provides an extensive number of digital document and film conversion services to the library, academic, publishing, commercial, government and archive sectors. The company manufactures, distributes, resells and services production and patron scanners for microfilm, microfiche, aperture cards, books, documents and all form of graphic arts (photography). Manufactured brands include Crowley, Mekel Technology, and Wicks and Wilson; distributed brands include Avision, InoTec, Qidenus and Zeutschel.
About LibraryWorks
LibraryWorks helps administrators to make informed decisions about library technology, automation and software, collection development and management, facilities and furnishings, staffing, purchasing, and other areas that drive effective strategic planning and day-to-day operations. The LibraryWorks family of resources can help to identify best practices, monitor trends, evaluate new products and services, apply for grants and funding, post or find a job, and even enjoy some library humor.
About the Modern Library Awards program
The Modern Library Awards (MLAs) is a program designed to recognize elite products and services in the library market which can help library management personnel enhance the quality-of-experience for the library user and increase the performance of their library systems.