Cheers to 40 Years!


On Saturday, February 1st, The Crowley Company (Crowley) marked its 40th anniversary since incorporation.
I think our founder, Jerry Crowley, would be quite proud – and perhaps a little surprised – at how the company has evolved over the decades.
From a one-man basement operation in Maryland to a 100+-team, three-location international company, the staff and geography are just two indications of the changes we've seen over the years.
In many respects, technology has advanced over these 40 years in ways only imagined by Hanna-Barbera in The Jetsons. While moving forward, Crowley has also remained true to its micrographic roots, focusing on the government, public, private and industry preservation markets by manufacturing and distributing high-quality production scanners and growing it's digitization services division (which converted nearly 150M images from all media types in just the last 12 months).
We've had hard losses over the years – Jerry, who passed too young in 1996, and son Christopher, who helmed the company from 1996 until his own untimely passing in 2018. Despite these blows, the strength and vision of the early and middle leadership laid a foundation that will carry us well into the future. Now in the capable hands of president Pat Crowley, Jerry's youngest son, and COO Kevin Crowley, the eldest of the sons, Crowley remains a family company and is poised for continued growth in an industry that is often noted to be shrinking.
"I think our greatest strength over the years is continuity of personnel," says Pat."The vast majority of our top- and mid-management have been with us for ten years or more. While we may not be as young as we were when we started, we're all still excited about what we do and the opportunities that continue to open before us." He continues, "It's kind of an odd thing to have a company which embraces the latest technologies in pursuit of preserving the past. There's a wonderful sense of being a part of something that will last well beyond our own efforts. Our client archives span wars, love letters, photo collections, court records, newspapers, political papers, medical histories and so much more. It has been an honor to help our clients preserve their archives and records this first 40 years."
Moving Forward with a New Look
To celebrate this milestone, we've updated our logo and branding to reflect Crowley's different divisions: digitization products; digitization services; and support services, which encompasses technical support, training, project management, collection assessment, custom manufacturing and other areas of growth and customer support.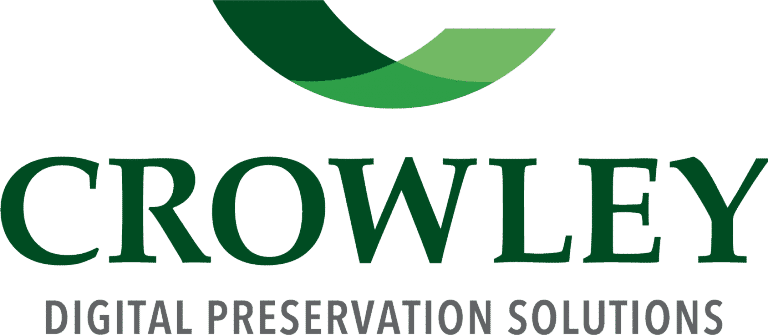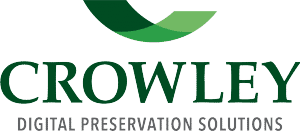 Our new website will launch soon. In the meantime, watch this short video (click here or below) to see our graphic journey through the years. Take a look at our new branding and know that we'll continue to stick to our roots while bringing you the best in today's – and tomorrow's – digitization products and services.
Thank you to each employee, client, vendor and professional services partner that has helped Crowley to remain an active and growing firm in the preservation and records management industries. We are truly the sum of our parts. Happy anniversary!
Want more details about Crowley?
For historical information, read this post written in celebration of our 35th anniversary. For general information on our products and services, click around our site using the tabs above.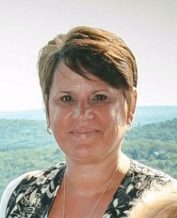 Cheri Baker, Crowley's former Director of Communications, has retired but retains her love for writing and all things Crowley. With a career that spans newspaper, agency and corporate communications, her goal remains to dig behind the scenes and tell the story - whatever it may be. Find Cheri Baker on LinkedIn+