The Growing Use of Patron Scanners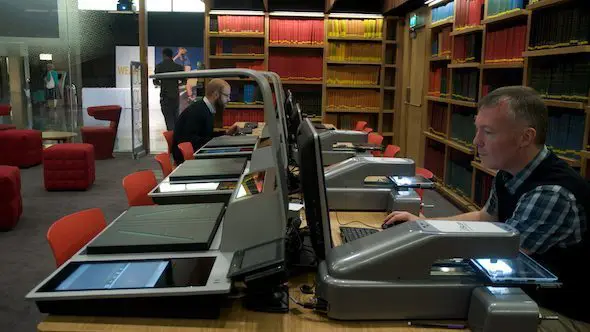 Patron scanners, like the Zeutschel OS 12000 Bookcopy, the Zeutschel zeta and Wicks and Wilson UScan, are growing in popularity for many reasons.
These scanners provide users an easy-to-operate walk-up experience – similar to that of a paper copier or microfilm reader/printer– but one that offers higher technology, lower maintenance, more features, media protection via gentle handling functionality and green benefits.
Patron scanners, or "on-demand" scanners as they are called in the industry, are increasingly found in academic libraries, records/vital statistics offices and other locations where bound, loose or fragile media or records stored on microform (microfilm, microfiche, aperture cards, etc.) are often searched by the public or within an organization. Bookcopy examples of use include students or faculty scanning pages from a book or loose material for research or non-archival use. For microform scanners, such as the UScan, users may search microfilm for old newspaper articles, birth or financial records or land deeds.
Using a patron book scan system minimizes damage to the original material – a hidden cost savings. The use of an overhead camera and LED light system in the zeta and OS 12000 ensures that book spines are not smashed under a copier cover and that the ambient light on the material is cool, not harsh.
Each system offers touchscreen or quick panel technology and can output to printers, USBs, networks, email or any number of software outlets such as Dropbox, Google+ and others.
Most patron scanners output in a variety of file types, including (but not limited to): JPEG; single/multi-page PDF; uncompressed, Group 4, multi-page TIFF; and PNG.
Patron scanners tend to cost significantly less than high-end scanners purchased for archival preservation as the end-use requirements are simpler. In addition to a lower initial investment, the patron scanners mentioned are designed for high traffic and have minimal maintenance requirements. As the images are scanned, not copied, there are no roller replacements, paper jams, etc.
Most patron systems also provide revenue-generation opportunities via a variety of today's pay-per-use system interfaces. This provides an organization the ability to charge for scanning, printing, etc. and can pay for the system over time or, at a minimum, cover the cost of scanner and printer consumables (ie. paper, toner, etc. when a digital image is sent to a printer).
Particularly in the case of the UScan, Crowley has seen a surge in "replacement sales" – the ordering of new units to replace aging reader/printers that trail new technology (some by decades). The affordable price point, the analog/digital technology pairing and the ease-of-use are enticements that seem hard to resist.
A University in North Carolina turns to Patron Scanners to meet Student Demand
For one North Carolina university and its 34,000 students, standard copiers were not making the grade. The university's Library Technology Services Leader (LTSL) fielded frequent complaints from students about the existing copy machine service (which included paper jams, lack of productivity and poor image quality). In response, the university sought an environmentally-friendly solution that would: reduce paper, ink and toner consumption; provide high-quality scans; accommodate high traffic; protect original material; and, finally, be simple to use.  The university partnered with The Crowley Company and replaced the copiers in its main campus library and branch libraries with seven state-of-the-art Zeutschel Color OS 12000 Bookcopy A2 size units.
With the success of the OS 12000 installations, the university later purchased several zeta units, an even more compact, simplified and elegant book scanner.
To read about how other entities are using these patron book scanners, read here.
Film and Food turn to UScan
The British Film Institute (BFI) at Southbank library in the United Kingdom provides film lovers of all shapes and sizes, from the casual browser to the dedicated researcher, free access to one of the world's largest collections of film, books and journals. Visitors can either pull up one of the library's comfy ergonomic red chairs to read a book or utilize the quiet desk area, perfect for those who need to concentrate on their work. The library also features several UScan microform scanners to allow patrons to easily locate, read and capture a wide variety of microfilm and photographic materials in a single unit. Paired with the zeta, as pictured above, these on-demand units pack a one-two punch for today's tech-savvy patrons.
In a corporate setting, a major U.S. food producer is using the UScan to access corporate archives, most notably, engineering and packaging drawings that have been saved throughout the years on microform. Read the case study.
It's uncomplicated. It's versatile. It's high-quality imaging at an easy-to-operate level.
Both the Zeutschel zeta and Wicks and Wilson UScan are available through The Crowley Company and its family of resellers. is a leading digital and analog film technologies company headquartered in Frederick, Maryland with offices and resellers worldwide.
If you have any questions about patron scanners or their trending use, please contact the Crowley Company by calling (240) 215-0224. General inquiries can be emailed to [email protected]. You can also follow The Crowley Company on Facebook, Twitter, Google+, LinkedIn, Pinterest, and YouTube.