InoTec/Crowley Announce New Production Document Scanner Series, SCAMAX® 3×1
The FADGI-capable production scanner for mid-volume document scanning will be available for delivery in the late summer of 2023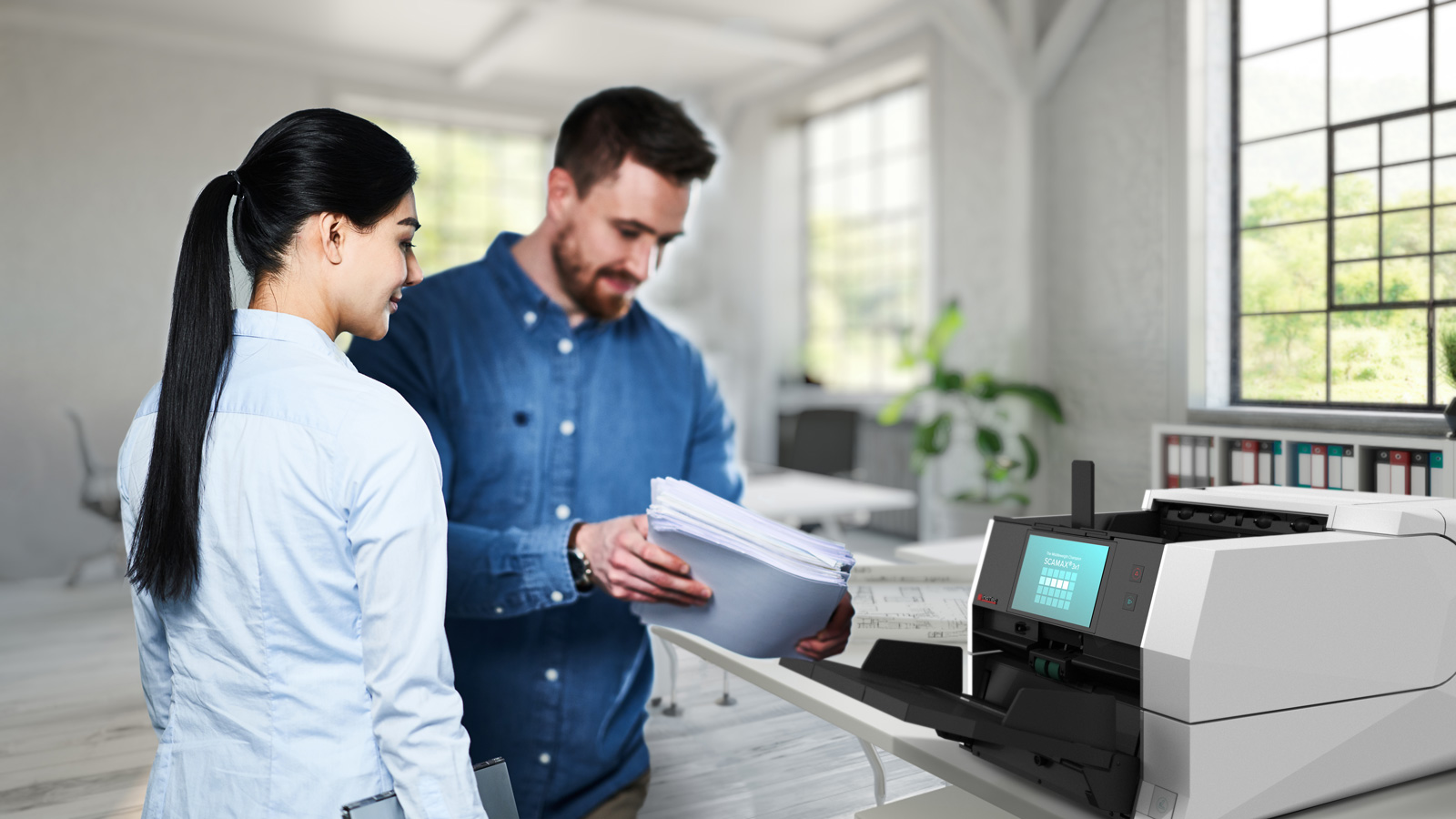 Ergolding near Landshut, Germany and Frederick, Md. –  German-based digitization market leader DATAWIN GmbH presents a new production scanner series: the InoTec SCAMAX® 3×1, set to begin first deliveries in the late summer of 2023. Optimized for price and performance, the 3×1 series scanners are ideal for applications in industries with mid-volume capture needs. The 3×1 series offers the impressive quality and extensive features of a high-end production scanner, including the compatibility with the Federal Agency Guidelines Initiative (FADGI). The complete InoTec line, including the new 3×1, is available in North America from trusted longtime partner, The Crowley Company (Crowley).
Evolving from InoTec's 6×1 series, which has become known as "the throughput sensation," and replacing "the classic" 4×3 series, the 3×1 scanners combine the best of both products by offering FADGI-capable image quality, safe scanning for cultural heritage items and speed – giving it the nickname, "the middleweight champion" and making it the most economic of the SCAMAX® production scanner family in size and affordability.
"The requirements in the mid-volume segment have increased and with them the demands of the users," remarks Johannes Boerboom, CEO and shareholder of DATAWIN GmbH. "Even those who 'only' have three- to five-figure daily volumes to manage want to scan in high quality and with all the options and conveniences of a modern high-end production scanner – but without using a sledgehammer to crack a nut. With the SCAMAX® 3×1, we are redefining the mid-volume scanner segment and proving once again that productive and cost-efficient scanning is not a question of numerical scanning speeds and cheap initial purchase prices but of the reliability, usability, durability and total cost of ownership of a scanner."
Unlimited Throughputs. Durability. FADGI-capable.
As the "little sibling" of the SCAMAX® 6×1, the SCAMAX® 3×1 harnesses a similar robust design, 24/7 operation capability and numerous premium functionalities of the globally successful desktop production scanner into an even more compact device. It is the first, and so far only, mid-volume production scanner to offer automatic, event-controlled document sorting. Another unique selling point is its image quality, which complies with the FADGI (3-star) and ISO 19264-1 (Level B) digitization standards, a rare feat for rotary scanners to achieve.
The SCAMAX® 3×1 is operated via an easy-to-use 7" capacitive touch display and scans documents sizes ranging from B7 (3.5" x 4.9") to A3 (11.7" x 16.5"). The scanners boast an unlimited daily scan volume and reach throughputs of up to 120 sheets (duplex) per minute. Built to last and remain gentle on originals, the SCAMAX® 3×1 can be cleaned without professional tools and transports paper via a wear-free, freely accessible belt system. All glass guides are scratch-resistant to staples and paper clips and include a 36-month warranty, meaning less technical support and parts replacements than with traditional rotary scanners.
From the Mailroom to the Archive: Quality Scanning for All Document Types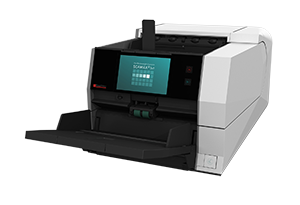 The SCAMAX® 3×1 is designed for daily or recurring scanning projects with document volumes into the tens of thousands, such as in archives, records management and corporate environments where any paper records (remittance slips, receipts, prescriptions, etc.) must be digitized. With its gentle paper transport, large bending radius, straight paper throughput and image quality in accordance with FADGI (3-star) and ISO 19264-1 (Level B), it also meets the global requirements for the productive digitization of cultural assets and is one of the few rotary scanners on the market able to produce such results while maintaining safety and image quality.
InoTec and The Crowley Company
For over fifteen years, The Crowley Company and InoTec have sustained a strong partnership and commitment to providing records guardians in North America with reliable, quality SCAMAX® scanners. Crowley is a unique blend of hardware and digitization services provider and technical support entity. From employing the 6×1 scanners in their award-winning services bureau to working with InoTec technicians to meet and exceed FADGI compliance and offering comprehensive maintenance and service by InoTec-trained technicians, Crowley has embraced InoTec scanners in every facet of their business in order to best serve SCAMAX® owners in North America.
Delivery Expected in the Third Quarter of 2023
As the smallest and most affordable member of the SCAMAX® production scanner family, the SCAMAX® 3×1 replaces the SCAMAX® 4×3 in the InoTec portfolio. Built off of the heritage 400-series line (4×2 and 4×1 scanners), the 4×3 series launched in the late 2000s and was considered one of the most reliable and durable desktop production scanners ever built. With the launch of the SCAMAX® 3×1, production of the 4×3 will be discontinued. However, its support is assured for years to come.
The SCAMAX® 3×1 can be pre-ordered now from DATAWIN GmbH and all InoTec sales partners, including Crowley. Delivery will then take place within the third quarter of the current year, following the InoTec Partners' Day (date TBD).
Made in Germany: Fair, Sustainable and Energy-efficient
The SCAMAX® 3×1 was developed and designed over 36 months at InoTec's headquarters in Wölfersheim, Hesse. Like all InoTec production scanners, it is 100 percent 'Made in Germany' and produced exclusively at the Landshut and Wölfersheim sites, in compliance with all applicable health and safety and environmental regulations. Parts and components that are not produced within DATAWIN GmbH are sourced from certified suppliers via the shortest possible supply chains. The SCAMAX® 3×1 meets all requirements that government agencies and public administrations, among others, formulate in their tenders with regard to environmental protection, social justice and responsible corporate governance in the manufacture of a device.

###
About The Crowley Company
The Crowley Company is a world leader in digital scanning technologies  manufacture and resale and provides an extensive number of digital document and film conversion services to the library, academic, publishing, commercial, government and archive sectors.
About DATAWIN GmbH and InoTec
DATAWIN GmbH, based in Ergolding near Landshut, combines the three independent scanner, OMR and imaging brands DATAWIN, InoTec and BAPIS. The DATAWIN brand develops, designs and manufactures customer-specific high-volume document scanners, optical mark readers and special paper-processing machines, as well as their components as sub-products. The brand's core competence and focus is on special development and contract development of customized document capture solutions. The InoTec brand, based in Wölfersheim, Hesse, optimizes the business processes of its customers worldwide with highly reliable production scanners and excellent service. Its SCAMAX® family of production scanners helps governments, government agencies and companies in all industries to scan large volumes of documents productively and securely. They are used where document volumes in the three- to six-figure range need to be handled in a short period of time or on a same-day basis. Or where the annual document volume reaches or exceeds tens of millions. The BAPIS brand offers customers from industry and research application-optimized solutions and expert advice in the fields of imaging and digital control. It develops, designs, manufactures and optimizes hardware, software and firmware that make its customers' products and applications precise, reliable, efficient and future-proof. The products of DATAWIN GmbH brands are used worldwide and across industries. They are used wherever large volumes of paper-based information need to be digitized, evaluated and sorted quickly and reliably: e.g. in elections, voting and multiple choice applications, in document archiving, wage data, incoming mail and betting slip capture, as well as for documentation in healthcare or quality management. In addition, in the areas of automation and quality control as well as medicine and science. DATAWIN GmbH is certified according to the European quality standard ISO 9001:2015 and belongs to the extended corporate group of DATAGROUP, one of the leading IT service providers in Germany. For more information, please visit www.datawin.de.