Crowley, Zeutschel Introduce Overhead Book Copier to the U.S. at the American Library Association (ALA) Conference This Week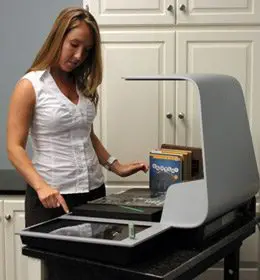 Frederick, MD and New Orleans, LA – Christopher Crowley, president of The Crowley Company, the exclusive North American distributor for the well-respected production-level Zeutschel book scanners, is looking forward to seeing a crowd in Booth 1625 at the ALA convention this year. "As manufacturers and re-sellers of high-end front end capture equipment, we attract attendees that know the positive reputation of our products but who often add us to their wish list because of budget constraints – our traffic is always steady, but there's rarely a crush." That could all change with the advent of the zeta, Zeutshel's brand new overhead book copier. Says Crowley," The zeta marries affordability with Zeutschel's renowned German engineering, giving a sought-after brand name and technology a new accessibility for libraries of all sizes and types." To accommodate the anticipated traffic, Crowley will display four units in their own booth and also have one each in partner booths 615 (S-T Imaging) and 318 (Certifi Media, Inc.).
REPLACES PAPER COPIERS, SAVES MONEY
With zeta, Zeutschel is presenting a multi-functional device that can complement or replace traditional paper copiers. The zeta digitizes and copies books and all manner of bound and loose documents using a combination of compact, stylish design, attractive price, easy usability and high functionality. Created for libraries and office environments, Jörg Vogler, conference attendee and managing director of Zeutschel GmbH, notes that the planetary book scanner / copier has a definite practical edge over conventional copiers. "The book lies on its back and is scanned from above through interaction with a small touchscreen to the right of the unit. This saves time for the user and costs for the book owner." Cost savings include: lessened stress to book spines because they don't have to be sandwiched between a glass plate and an inflexible copier cover; reduced ink costs because the unit saves images to email, USB or cloud services; reduced paper costs as scans can be previewed and corrected onscreen prior to printing (in addition to multi-save options); and lower maintenance costs, as the unit eliminates the toner and paper feed issues associated with a traditional copier. In addition, Crowley notes that "the zeta takes up a minimal amount of space and scans/copies up to 600 dpi quickly – the highest and fastest dpi scan for this type of unit in the industry." Vogler agrees, "With a scan area greater than A3, the zeta is currently the smallest book copier on the market. It can process 95 percent of the book stock in libraries and take up considerably less floor space than a standard A3 copier." The unit can also compete against powerful office copiers in terms of price.
Diverse market potential
Ideal for libraries and their need to satisfy walk-up patrons who are increasingly environmental- and tech-savvy, the zeta is also attractive for bank, legal, insurance, government, court and other office environments – wherever bound documents such as magazines, ring binders, contracts, balance sheets or building plans need to be copied.