Crowley Brings New Zeutschel OS Q A1+ Scanner to North America
Next Generation Book and Large Format Scanner Offers Increased Production Speed and Highest Image Quality
Frederick, Md. – Zeutschel GmbH, the world's leading manufacturer of book and large format scanners for the high-end digitization of cultural assets, recently announced the advent of their new OS Q scanner series. As of this week, the OS Q1, an A1+-size scanner, has been released to market and will be carried exclusively in North America and the Caribbean by The Crowley Company (Crowley).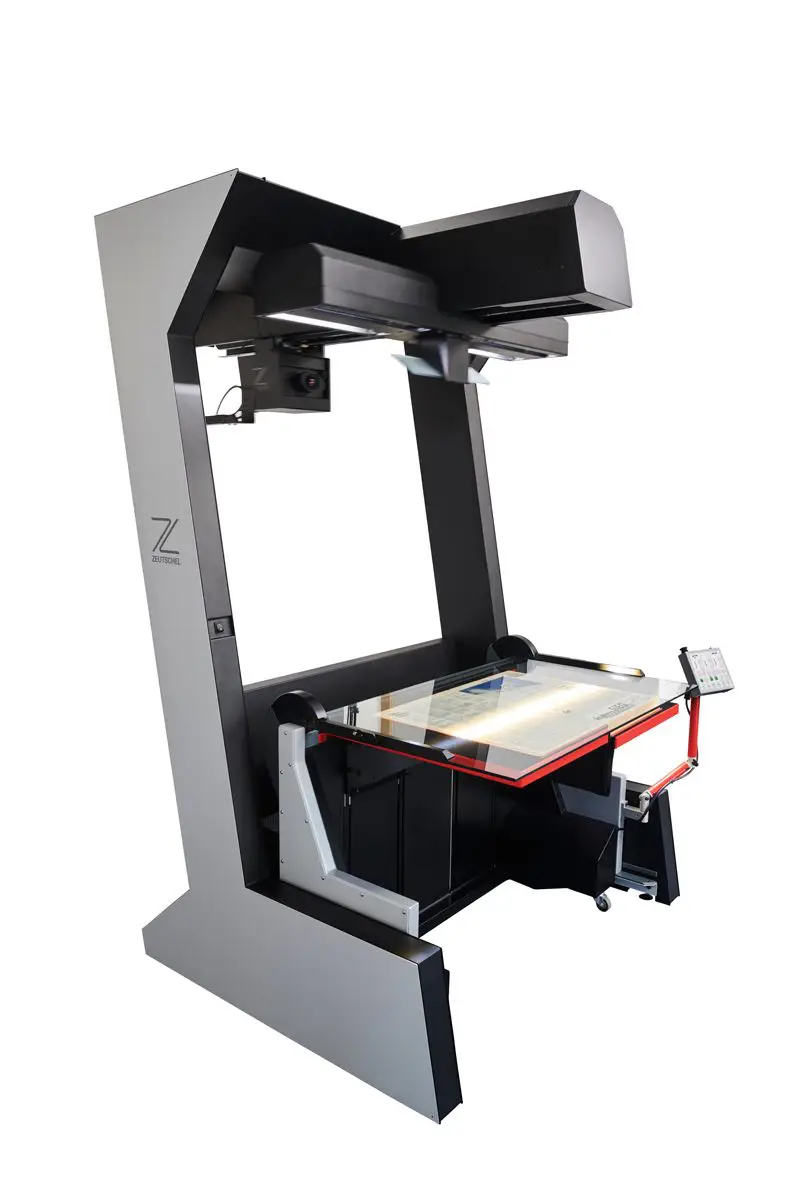 The OS Q1, with a scan area of 924 mm x 700 mm (approximately 36" x 27"), is the first release in the OS Q series. Designed to scan bound and flat material in compliance with the highest imaging standards (currently FADGI four-star in the U.S.), the OS Q1 also boasts fast scan times for increased operator productivity.
Setting the Pace for the Future of Digitization
"One of the many reasons that our relationship with Zeutschel has stood a 20-plus-year test of time," notes The Crowley Company president, Patrick Crowley, "is their rich understanding of the cultural heritage market in which we are deeply steeped. Zeutschel continues to innovate digitization products that meet the challenges faced by traditional and digital archivists, historians, librarians and others entrusted with archive collections and records management. The OS Q1 – and released earlier this year, the ScanStudio – are just the latest examples of Zeutschel's advances in front-end capture."
Adds Matthew McCabe, Crowley vice president of sales and marketing, "Just a little over ten years ago, NARA [The U.S. National Archives and Records Administration] put out a quote request with requirements for a scanner that didn't yet exist. Zeutschel answered the call and, working together with Crowley, designed and manufactured the OS 14000-series scanners to meet those requirements. The 14000's were groundbreaking for their capture size, detailed but intuitive software and high image quality."
Today, the Zeutschel OS 14000 large format scanners are a staple in prestigious archives and universities worldwide.
McCabe continues, "There has been a tidal wave of change in digitization technology and preservation standards over the past decade. This has forced those competitive in the capture industry to pair their expertise with their crystal balls and to design for the future. Once again Zeutschel exceeds expectations with the OS Q scanner series."
Not only has digital technology evolved, says Crowley, so has the demand for access to digital archives.
"We live in a world that is now accustomed to instant information. Digitally archiving the world's treasures – in all their media forms – is increasingly a 'must' versus a luxury. It's a double-edged sword for archivists who are tasked with the preservation of the originals and the digital copies. As a partner who provides both scanners and scanning services, it's imperative that Crowley leads the way in equipping archivists with digitization offerings that can build digital collections viable for the long term."
Crowley expands: "In our own conversion services division we're seeing imaging requirements such as FADGI become the norm instead of the exception. This standardization of digital image quality, predicated on the image end-use, ensures that digital archives have the best chance to stand the test of time as true archive representatives. We have over a dozen Zeutschel scanners in daily use in our Frederick [Md.] service bureau and are expecting our own OS Q delivery next week. I see this as a testament to Zeutschel products and their capture quality. We know they're good because we use them ourselves."
Wolf-Christopher Gramatte, Zeutschel's head of international sales, recognizes the value of this unique partnership. "I've personally worked with The Crowley Company for more than ten years. In that time, they have impressed me as always having the best interests of their customers at the forefront. Whether it's working with a manufacturer on developing creative solutions to specific client challenges or – on a broader scale – to help understand the needs of their unique markets, the goal is always to offer the best option for digitization. In this way, we push each other; the market is better for it, I think."
OS Q1 Features and Benefits
Sharp, low-noise, high-contrast images that produce the finest details true to the original

RGB line sensor (3-channel, CMOS technology)
State-of-the-art gigapixel camera (HQ model)
Interchangeable lenses
Variable exposure times and aperture settings

Reflex- and shadow-free reproduction of the most difficult originals

Latest LED lighting technology in combination with a custom lighting system

Gentle lighting protects originals and is operator safe

Uses Zeutschel Perfect Book 3D scan technology to further eliminate binding gutters, glare from glossy originals and more

Excellent color rendering (CRI > 97)

Optimal pairing of sensor and lighting
True RGB capture on each pixel; no color interpolation

Captures up to 600 ppi with 48 bit data output using Zeutschel OmniScan software (internal image processing to 96 bit depth)
Camlink interface for fast image transmission
Complies with: FADGI; ISO 19264-1/Quality Level A; Metamorfoze
Maximum production efficiency

True parallel scanning (simultaneously scans and saves in both directions)
5 second scan cycle at 200 ppi (start to processed image)
Self-opening glass panes
Self-balancing book plates
Semi-automatic scanning
Saved project templates
Foot pedal and keypad* operation
Quality capture on the first pass; no need for re-scans

Designed for future use and advancements

Interchangeable with height-adjustable copyboard tables and book cradles from other Zeutschel models* to further equip as media needs change
Optional optical zoom and macro lens available for small format digitization
View the Zeutschel OS Q1 video
View the Zeutschel OS Q1 brochure 
*depending on model
November 19th "First Look" Demo Scheduled
The Crowley Company will host an invite-only "first look" OS Q1 demo in their Frederick, Md. headquarters. Zeutschel and Crowley representatives will pair to facilitate an in-depth look at, and demonstration of, the unique features and properties of the OS Q1 scanner. For more information or an invitation, please contact [email protected]
###
About The Crowley Company
The Crowley Company (Crowley) is a world leader in digitization/ preservation technologies and provides an extensive number of digital document and microfilm conversion services to the public, private and government sectors. The company manufactures, distributes and services high-speed microfilm, microfiche, aperture card, book and document scanners, microfilm duplicators, film processors, micrographics equipment and 71MP cameras. Manufactured brands include Crowley, Mekel Technology, Wicks and Wilson and Zeutschel. Crowley is the only firm in the industry that manufactures, uses, distributes and supports the scanners it designs, giving it an unmatched competitive edge.
About Zeutschel
With its scanning and microfilm systems, Zeutschel GmbH has played a key role in the digitization and digital preservation of valuable documents, both in librarianship and archive management as well as in industrial companies and public administration. The company is the global market leader in book scanners. The range of software products and accompanying services is extensive and supports libraries and archives in building up digital collections in the Internet and in the realization of digital services. The company, founded in 1961, employs 68 members of staff, and its products and services are represented in more than 100 countries. All Zeutschel products are made in Germany; the complete manufacture and entire research and development activities take place at the company's headquarters in Tübingen-Hirschau.