Crowley Announces ODS Book Scanner Pairing with Scannx Software
ODS 100 Will Debut in New Orleans at Annual Library Conference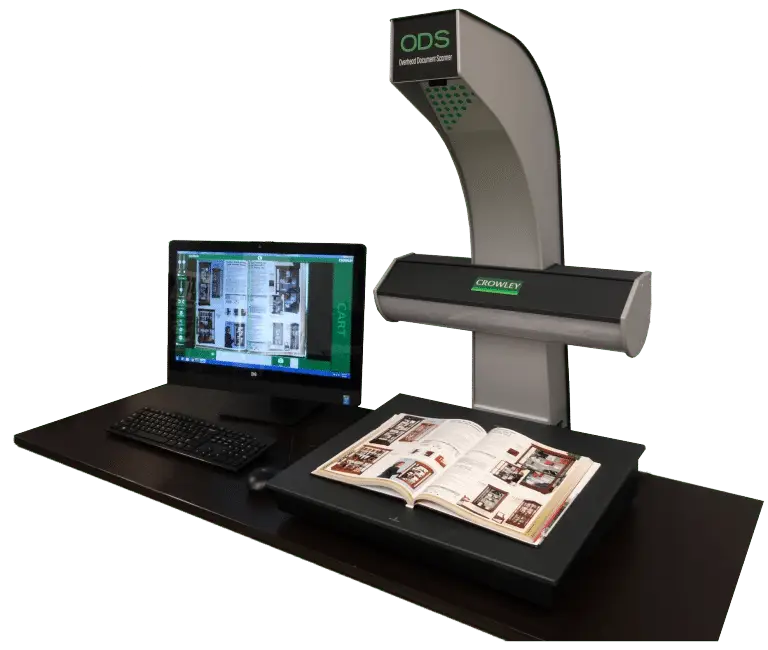 Frederick, MD – Christopher Crowley, president of The Crowley Company, announces today that Scannx, a leading developer of cloud-based document scanning and delivery solutions for libraries, has paired their software with the Crowley-manufactured ODS overhead book and document scanner. The pairing will be offered to the public as the ODS 100 and will be available through Scannx. The Crowley Company is a world leader in the manufacturing and distribution of book, microfilm, photographic and document scanners and cameras and also provides world-class digitization services for government, private and public institutions.
Notes Crowley, "This integration allows the ODS 100 to be joined with any other brand scanner in a library or corporation utilizing Scannx software, giving those institutions already on the Scannx platform a reliable, affordable A3+ overhead scanner option."
The ODS 100 will debut in Booth 3059 at the 2018 American Library Association Annual Conference which will be held June 21-26 in New Orleans, LA. The Crowley Company will be showing its full line of scanning products for libraries in Booth 1943.
About The Crowley Company
The Crowley Company is a world leader in digital scanning technologies and provides an extensive number of digital document and film conversion services to the library, academic, publishing, commercial, government and archive sectors. The company manufactures, distributes and services high-resolution cameras for cultural heritage digitization, high-speed microfilm, microfiche, aperture card, book and document scanners, microfilm duplicators, film processors and micrographics equipment. Manufactured brands include Crowley, Mekel Technology, and Wicks and Wilson.
###