Image Quality that Meets Today's Digitization Standards
FADGI, ISO, Metamorfoze…
Crowley Imaging has Every Quality Standard Covered
Get a Quote on Imaging Services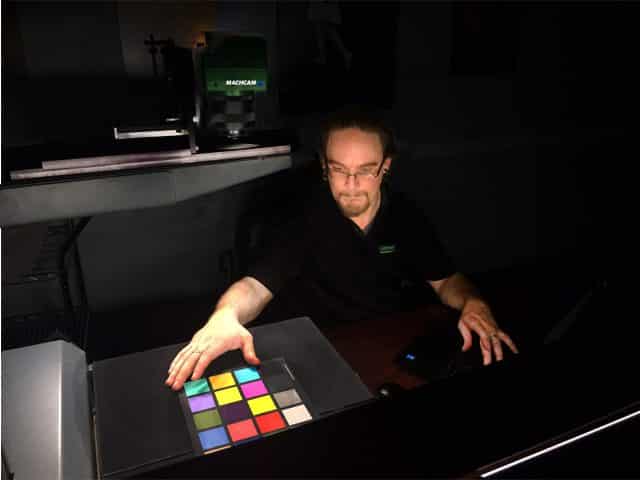 For many years, the definition of image quality was highly subjective and a moving target (pun intended). To date there is still not one single international standard, but there are several with comparable requirements. In 2007, edging closer to a common standard, U.S. federal government agencies began a collaborative effort to articulate "common sustainable practices and guidelines for digitized and born digital historical, archival and cultural content." This effort led to the creation of FADGI standards – a four-star ranking system. FADGI (Federal Agencies Digital Guidelines Initiative) is still a work in progress but is becoming the norm for any materials bound for the National Archives or the Library of Congress.
Crowley's director of imaging services sales, Dave Westcott, notes that "The days of visual inspection are gone. Digitization standards such as FADGI take the guesswork out of scanner performance by using software programs to measure the final image against a set target quality."
The Crowley Company is uniquely capable of meeting or exceeding nearly any quality standard parameter, including FADGI, for several reasons:
Equipment. As a manufacturer and distributor of some of the most trusted names in scanning hardware, Crowley's imaging services division has immediate access to the newest technology and highest-rated scanners in the industry. Noted brand names that can meet FADGI requirements include InoTec (documents), Mekel Technology (microfilm and microfiche), Qidenus (bound materials) and Zeutschel (bound, flat and large-format).
Experience. Crowley's imaging specialists are familiar with all print media types and sizes, ranging from glass plates to oversize architectural drawings and bound newspapers. Each operator is trained to accurately quantify and qualify image quality specific to the media type, the scanner type and the project requirements.
Expertise. In addition to experienced scan operators, The Crowley Company has color accuracy and image specialists on staff. Working in concert with the Crowley R&D team and/or the complementary team at one of our scanner partners, these specialists bridge the gap between scanner and final image, testing equipment against the required targets and collaborating with the manufacturing and software teams to coax the very best image quality from every scanner. The ability to work with-house manufacturing to quickly retrofit scanners to meet industry standards when possible is unique to The Crowley Company.
Is FADGI Quality Necessary?
Not every digitization project must meet FADGI or other imaging standards. It's most often the end-use of the digitized collection that determines the image quality required. "As of right now," says Westcott, "FADGI requirement is fairly specialized. It's important to note that there are often additional costs involved due to the extra quality checks and scanner calibrations required. These may be unnecessary depending on how the collection will ultimately be utilized. Our goal as partners in the digitization process is to ensure that the client receives excellent image quality on every image regardless of a formal rating and to help them find cost-effective ways to manage their digitization project without sacrificing quality. "
International Equivalents
We asked trusted German book scanner partner, Zeutschel GmbH, which manufactures several overhead and graphic arts scanners capable of consistently capturing FADGI four-star images, to provide a FADGI equivalent with other international imaging standards. Notes Wolf-Christopher Gramatte, Zeutschel's head of international sales, "The quality standards for FADGI, ISO and Metamorfoze don't request similar values for their rankings, so there is not an exact comparison. Generally speaking, the below information is a good approximation."
• FADGI 4-star = ISO 19264-1 Level A = Metamorfoze Full
• FADGI 3-star = ISO 19264-1 Level B = Metamorfoze Light
• FADGI 2-star = ISO 19264-1 Level C = Metamorfoze Extra light
Learn more about FADGI
In 2018 Crowley ran a three-part blog series entitled, "What the FADGI %*#&!?" A quick read through the posts will enhance general knowledge, help aid understanding as to whether FADGI compliance is right for your collection and give you the information needed to ensure that your chosen vendor can, in fact, deliver images that consistently meet a FADGI rating. Always ask for project samples in advance to ensure compliance prior to awarding a contract.
For more information about imaging standards and the steps The Crowley Company takes to ensure image quality on both their manufactured scanners and in the digitization services bureau, call (240) 215-0224.