Why I Love Libraries: An Ode to Books, Librarians and Everything In Between
In celebration of this week's American Library Association (ALA) Annual Conference in Orlando, I've decided to put together a countdown of my favorite things about libraries. Libraries aren't just about free Wi-Fi access and the smell of old books (although those are things to love as well); libraries have a multitude of qualities that deserve praise and recognition, in my humble opinion. Through the vigorous efforts of librarians, community leaders and patrons, I've found that libraries have held their place as the epicenter of knowledge and community since the first library was documented in 2600 BC.[1]
But first, some math.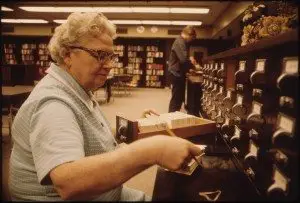 I can sense the sighs of objection coming through the computer. Never fear, we'll get back to libraries in a minute but it's important for you to know why libraries matter not only to me, but to The Crowley Company as well. After all, numbers have their rightful place in the library world too (hello, Dewey Decimal system).
Crowley's conversion services department works tirelessly to scan, digitize and preserve large volumes of documents and collections for a variety of corporate businesses, government agencies, medical institutions, historical and genealogical organizations and, of course, libraries. Of all these fields and others, academic, public and private libraries comprise 35-40% of our conversion service clients (as well as provide stories for some of our most interesting blog posts). Additionally, 15% of Crowley's book scanner and microfilm scanner clients serve libraries. Any way you slice the Crowley trifecta (scanners, service and support) libraries are a major part of Crowley's clientele. The two have formed a symbiotic relationship that has been in effect for decades. In recognition of this important partnership and my own personal experiences, I give you a countdown of my favorite things about libraries:
Libraries expand creativity. Libraries frequently offer programs that motivate the community to spread their creative wings, such as zine seminars, National Novel Writing Month (NaNoWriMo) initiatives, arts and crafts events, concerts, puppet shows and so much more. Some of my favorite afternoons have been spent listening to concerts hosted by my local library. Through these types of initiatives, libraries are opening the door for communities to expand their imaginations and create the next generation of artists.
Community outreach. Libraries are valuable tools in enriching communities economically and socially. Many libraries offer an expansive array of popular patron education programs such as story times, after school clubs, literacy campaigns, educational workshops and social activities. For example, the Detroit Public Library is a part of a community-wide referral program that links individuals with health care, tax preparation and social service agencies within their area and expanding resources available to their patrons.[2] After school clubs at the library were a large part of my childhood and provided me with social skills and a sense of community from a young age.
Access to authors and information. It's a no-brainer, checking out free books (and CDs, DVDs and historic records) is one of the greatest things about libraries. Libraries offer everyone the chance to expand minds and entertain. They also provide patrons with the opportunity to meet authors and community leaders through book signing events and seminars. Libraries provided me free access to research materials while I was co-creating a line of felt dolls based on historical feminists. Thanks to the library I learned about one of my favorite feminists and Civil Rights activist, Claudette Colvin.  
Free Wi-Fi. I said it wasn't ALL about free Wi-Fi . . . but a little of it is. The inclusion of free and accessible internet to the already massive educational offerings of libraries creates a virtually endless wealth of knowledge to patrons. According to a study conducted by University of Maryland's College of Information Studies, 90.5% of public libraries offer wireless (Wi-Fi) Internet access as of 2012.[3] A Census Bureau report states that 73.4% of households in 2013 had personal access to a high-speed internet connection,[4] which leaves 26% of the population without what has become increasingly critical access. (Ever try to figure out metric conversions or fill out today's college applications without the internet)?
Librarians. The stereotype of librarians being tight-lipped and stern has not been true in my experience. Most librarians I've met have been notoriously cool and helpful. They know things and have experienced many worlds through the power of books. How do I know? I am one of the many that call a librarian family and trust me, I have the backlog of Thanksgiving and Christmas memories to prove that librarians are just as fun as the rest of us, if not more. Don't believe librarians are fun? Watch this video parody of Bohemian Rhapsody by the librarians of Shoalhaven Libraries.
Obviously, a library's contributions cannot be adequately measured in a list of a mere five traits. What have these institutions given you? Visit us in Booth 1061 at ALA and share your library story with us or give us your own top five list in the comment section below. We can't wait to hear from you!
P.S. If you'll be attending ALA, be sure to meet author Elizabeth Gottlieb, say hello to Matt, Meghan, Robie and Sean and demo our scanners.
About The Crowley Company
The Crowley Company is a world leader in analog and digital imaging systems and services and is – to our knowledge – the only blend of manufacturer, distributor and service bureau in the industry. This dynamic combination allows Crowley to provide multi-layered solutions to the complexities of archival preservation and records management. The company has locations in Frederick, Maryland, San Dimas, California and Basingstoke, UK.
[Hannah-Clawson]
Sources:
[1] http://www.berkeley.edu/news/media/releases/2003/05/06_tablet.shtml
[2] https://www.imls.gov/sites/default/files/publications/documents/museumslibrariesandcomprehensiveinitiatives.pdf