The Crowley Company Begins Shipping UScan+

Universal Film Scanner Only Unit on Market with USB3 Capability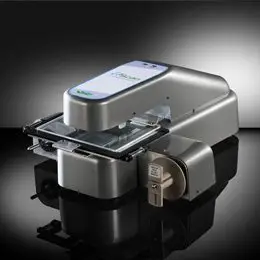 Frederick, Md. – Crowley Company president Christopher Crowley announces the formal entrance of the UScan+ Universal Film (UF) reader/scanner into the digital imaging market this week. "The original UScan, which came to market in June 2012, was quickly embraced by end-users for its small footprint, pricing and user simplicity. This next generation, the UScan+, is the result of customer feedback and their desire for additional features. We've completed beta testing and have just shipped our first units to Japan, South Korea, Canada, Brazil, China, Germany, Italy, France, Portugal, Russia, South Africa and throughout the United States."
UScan UF-Series Market Requirements
Matthew McCabe, Crowley vice president, explains that the UScan+ fulfills several market demands. Replacements are the first. "There are literally thousands of old microfilm readers – sometimes called viewers – still in use around the world. These are the units that have been around since the 1950s and are found mostly in libraries where students or researchers request a roll of microfilm and manually pull or roll the reel through the viewer in order to find, say, an old newspaper article. Once the information is located, handwritten notes are the most common take-home format." While these units still serve the original purpose of access to film, they are not in step with today's technology. Additionally, as McCabe states, "production on these units has long since ceased. Parts, consumables and supplies are no longer available for aging units." In addition to being energy efficient, another market demand, the UScan+ is environmentally sensitive in that it does not require costly toner cartridges or reams of paper in order for users to share their images. All that is required to share is a USB, an email address or cloud storage.
Next is the demand for progressive technology. Over the past two decades, several reader-printers entered the market, offering automated viewing and the ability to print – and more recently, scan – a copy of the images viewed. "These units were important as a bridge between what had been available and the emerging imaging technologies," states McCabe. "These units also gave organizations with a small volume of corporate archives and records an opportunity to access and digitally scan images in-house – an option not previously available for those on a tight budget." He continues, "The market has grown increasingly tech-savvy and is hungry for the bells and whistles found on today's tablets, such as touchscreens and multiple output options. The UScan+ takes reader/scanner engineering to the next level by offering both of these and much more."
The third market requirement is easy patron use. Typical organization types that utilize reader-scanners include public and academic libraries, county clerk offices, insurance companies and engineering firms. Patrons or employees of these organizations may be searching for land records, insurance policies, genealogy records, project research, corporate archives or engineering drawings.
"Today's users are also high school and college students, educators, researchers, archivists, records managers and citizens," says McCabe. "They are not all trained capture specialists. Some are new to microfilm but not to the touch and gestures required for today's tablets, PC's and smart phones. We've simply married the technology to create a touchscreen microfilm scanner. Operators can walk up, insert the micro-media of choice and start reading or scanning without delay." Of the challenges to create the Universal Film series, McCabe says, "The unit had to be easy to operate, but also able to respond with the speed and image quality to which this generation has become accustomed. For back-office operators, the features had to include advanced editing options and produce archival quality images. Crowley's three-plus decades of experience in manufacturing and scanning has given us the unique ability to develop an advanced unit of this type."
The term "universal film" signifies that the UScan and UScan+ can read and digitize from any microform including: microfilm, microfiche, aperture cards, photographic negatives, slides and more. The Uscan+ scans in grayscale, black and white and color.
Uscan+ Features
"One of our primary competitive advantages on the UScan+ is its USB3 capability," states Kevin Keeler, Crowley vice president of research and development. "All sources point to a fading out of FireWire, which is used on several competing units. The speed of USB3 connectivity allows for real-time full resolution viewing of scanned images."
Other UScan+ advantages include a precision lens and learned auto-focus, auto-zoom and auto-frame – all of which save time and make the viewing and scanning a simpler and more accurate process. The UScan+ is delivered standard with color scanning; RapidScan software for low volume batch-scanning solutions is delivered as an option. Field studies have shown it to be the most accurate batch scanning software in the market segment. To augment scanning (versus viewing) operations, the UScan+ uses Nuance, considered the most robust OCR engine specific to the characteristics inherent in microform images. All UScan models are InterLibrary Loan (ILL) compatible, which is a necessity in the academic and library worlds.
Output options include CD/DVD, USB, cloud, email and more.
Worldwide Sales
The UScan+ is carried by a worldwide network of more than 100 resellers. It will also be manufactured under several other brand names, including the Mekel Technology MACH2+ Universal, the Zeutschel delta+, the Genus Ozaphan UScan+ and the IMAGELINK Patron+ Universal Microform Scanner.
The Bottom Line
"For an operator," says Christopher Crowley, "the selling point of the UScan+ is its flexibility to perform as either a reader or a full-fledged scanner. For the purchaser, the selling point is simply price. As a manufacturer of high-end production scanners, it's economical for us to modify our advanced engineering for everyday use. This is a unit that has value far beyond its affordable pricing."
Click Here for UScan+ specifications