Crowley Debuts Robotic and Walk-up Bookscanners in Booth 110 at ACRL Today

Frederick, Maryland- Christopher Crowley, president of The Crowley Company, is pleased to announce today's introduction of two brand new book scanners at the Association of College and Research Libraries (ACRL) 2011 National Conference. "ACRL is a great venue to introduce both the Qidenus robotic book scanner and the S-T Imaging BookScan Center," states Crowley. "They are two very different units in terms of capacity and price, but both produce excellent quality images, are easy to operate and maintain and provide strong value." Held every other year, ACRL is taking place March 30-April 1 in Philadelphia at the Pennsylvania Convention Center.
Bionic Finger, Vacuum-Free Technology Set Qidenus Apart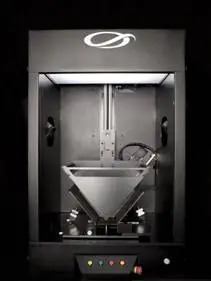 Currently in use by premier European, Eurasian and Middle Eastern libraries and service bureaus, the Qidenus Robotic Book Scanner (RBS) is now available in North and Central America exclusively through The Crowley Company. "This tabletop unit, which we've put to use in our own service bureau, features an intuitive page-turning mechanism – called the 'bionic finger' – that uses revolutionary intelligence to automatically adjust the page-turning process," describes Crowley. "Because the unit uses a V-shaped pressure-controlled glass plate instead of vacuum suction, the Qidenus is truly non-destructive and ideal for rare materials. From a volume standpoint, with a capacity of up to 2,000 pages per hour, the Qidenus is also well-suited for high-volume conversion projects, such as those in the imaging or publishing industries."  Powered by QiScan software, the RBS A3+ scans up to sizes 11.4 x 14.6 inches in 24-bit color, 8-bit grayscale or 1-bit black and white up to 400 dpi (depending on applied cameras). The RBS A2+ model scans up to 14.6 x 21.6 inches at 300 dpi. The units output in most file formats and can also be operated manually.
S-T BookScan Center Offers Pay Options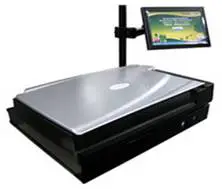 "Not every project requires the high-end features and capabilities of the Qidenus," notes Crowley. "We're very excited about the new S-T BookScan Center, which offers smaller libraries, offices and public spaces the versatility and image quality of a commercial book scanner at an easily affordable price point. The fact that it can be fitted with a 'Pay For Scan' or 'Pay For Print' option means that the unit can eventually pay for itself and become a source of income, adding extra value." The BookScan Center scans large-format and standard-size loose papers and books to USB flash drive, email, ftp or print and does not require user training. Maximum scan area is 12 x 17 inches with a resolution of up to 600 dpi in color, grayscale or black and white.
"We value our vendor relationships as the vendors are partners in our own customer relationships," says Crowley.  "Both Qidenus and S-T Imaging provide products that are upgradable, low maintenance and which deliver quality results. We think both of these products will draw intense interest with the researchers and librarians at ACRL."