The Importance of Building a Sustainable Scanner
An InoTec GmbH White Paper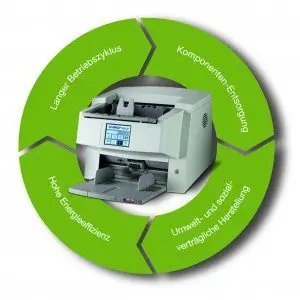 The Crowley Company has been fortunate to work with several long-term partners that develop some of the world's most respected scanners. Our partner selection is based on many factors, some of which include quality of product, pricing, market needs and – perhaps most importantly – the ability to think ahead. The forward-thinking that we seek applies to technology, obviously, but also to how the partner conducts business. This following is an edited version of a study on sustainability written by InoTec GmbH, which engineers the production-level line of document scanners that Crowley exclusively represents in the United States. We think the points made are important for consumers to know and so we're sharing their white paper as this week's blog.
SUSTAINABILITY: Good for the Environment and the Budget
What may appear to be inexpensive at first sight can be very expensive in the long-term. Working within a sustainable product concept, InoTec shows how to leave a small ecological footprint, how to produce a socially fair scanner and how to keep the total operating costs as low as possible.
The life cycle of many IT devices is shortening: every two years for a new cellphone; every three years for a new computer; and five years or less for B2B document scanners. A study of the German FEA (Federal Environment Agency) shows that many IT devices are being replaced before they have even reached 10 to 50 percent of their economic lifetime.
The Ecosystem and Human Effects
The dark side of this evolution is a continuously rising waste of valuable resources and significant damages to the environment. It requires 1,500 liters (396 gallons) of water as well as between 500 and 1,500 kg (1,100-3,300 pounds) of resources to manufacture a computer with monitor.
Perhaps more fatal? Despite legal provisions within the European Union, a good portion of the resources don't return to the circle of goods and values. Less than 50 percent of the IT and telecommunication devices sold per year will be recycled, says the German Federal Ministry for the Environment, Nature Conservation and Nuclear Safety.
About a quarter of the waste goes into the export. Every single year more than 155,000 tons of partly dangerous electronic scrap is shipped to Africa and Asia, where it is disassembled regardless of its effect on human beings and the environment.
Additionally, there is the consideration of unfair labor practices in countries that often build these devices. Resources are sometimes mined under slave-like conditions and assembly can take place against core labor standards of the International Labor Organization (ILO).
Utilizing a Sustainable Product Concept
So what business model alternatives are there? Peter Schnautz, CEO of InoTec GmbH, has a clear response to this question: "Get a better; focus on quality."
Since 1992, InoTec GmbH has focused consistently on a sustainable product concept by concentrating on four pillars to build their scanners: extended lifetime; high-energy efficiency during operation; professional disposal of components; and manufacturing in an environmentally- and socially-compatible way.
One central feature of the sustainable product concept is the use of long-lasting components. Beginning at the drawing table, InoTec designs its scanners with a consideration for extensive upgrade and update possibilities. A long life cycle is also reached because of the user-friendly care and self-maintenance of the devices.
Other features are the low consumption of electricity in standby mode (lower than that permitted by the EU ENERGY STAR guidelines) and an ecological and professional disposal of the scanner if exchanged by the owner via a recycling program. InoTec works in close cooperation with a local certified waste management center that also supports the integration of those with disabilities into working life.
For InoTec, sustainability also includes fair wages and strict environmental and safety regulations. For that reason, the phrase "Made in Germany" is used to signify that the complete engineering processing – from development to the first prototype to the serial production – happens at the company's headquarters in Woelfersheim. Says Schnautz, "The compatibility of ecology and economy means that sustainable product concepts create a win-win situation for all involved: provider, environment and customer."
Total Operating Costs in Focus
This approach has helped InoTec achieve qualitative growth over the years. Notes Schnautz, "Our economic success is founded on innovative products which offer… functional value, a long period of use and technological continuity. Combined, these properties create low total operating costs for the customer."
For InoTec, Total Cost of Ownership (TCO) not only includes the cost of purchase, but all aspects of operation, repair and maintenance. Some of these traditional costs are offset by InoTec's almost maintenance-free engineering; others by the cost advantages of a sustainable product concept.
An example is given by AdVision digital GmbH, which owns the largest media database in Germany and which digitizes trade and public magazines. During the selection process for their scan systems, the InoTec SCAMAX® 4×3 scanner was higher priced than the competition but had product benefits which lead to a positive long-term cost analysis.
"With our scanners at the time, we had to mark the edges of the magazines so that they could be detected correctly. The automatic edge detection of the InoTec scanners eliminated this step," explained Carsten Koster, CEO of AdVision. The reliable input systems, as well as useful functions such as the automatic deskew of documents, made an efficient and almost uninterrupted workflow possible. Koster was also pleased with the low costs for wear and tear parts and the expected working lifetime of the InoTec – one of their two InoTec scanners has been on duty for more than eight years. For AdVision, the cost advantage per year added up to over 11,000 euro (about $11,000 USD today) in total.
The bottom line is that InoTec has found a way to prove that sustainability and business success are not contradictions, but practices that can go hand in hand. Or, as Schnautz says, "Sustainable product concepts are the first voice for those who think and act cost-effectively."
Click here for the full version of this white paper.
Find out More
To find out more about InoTec document scanners, visit our webpage, watch the scanners in action on Crowley's InoTec playlist or contact a representative at (240) 215-0224 to determine your own total cost of ownership.
The Crowley Company is a full-solution imaging partner. From micrographics equipment and microfilm to desktop and production scanners to patron systems and conversion services, The Crowley Company has aided records managers, archivists, librarians, researchers, students and others throughout the world with archival preservation, records management and digitization solutions.