Crowley MACH Mini Film Portable Microfilm Scanner
The Crowley Company introduces the MACH Mini Film, a revolutionary new compact production, portable microfilm scanner with the smallest footprint in its class.
The MACH Mini Film harnesses the acclaimed scanning and processing power of Mekel Technology MACH-Series microfilm scanners to provide accurate, fast microfilm capture without the physical space needs of a larger production scanner. The MACH Mini Film portable microfilm scanner is ideal for small-to-mid size service bureaus, archives, government agencies and others with microfilm archives.
Competitive Advantages
Size. Smallest footprint in the microfilm scanner production class at 15 x 16 x 8 in. (36.9 x 40.7 x 19.7 cm)
Space. The stable footing and compact design allows for scanner stacking to further save space while increasing production capability
Production. An included external PC drives the scanner and ensures maximum uptime and easy technology updates. Swap PCs, not scanners!
Software. Crowley's acclaimed Quantum software suite is a proven, highly effective scanning and processing platform.
Threading. The MACH Mini Film's simple film transport path makes it easy to load all film types. The well-balanced tension system protects from the dislodging or separating of brittle microfilm sometimes caused by pinch rollers.
Storage. Additional file storage options available.
Access. Scan it. Process it. Host it. Each purchase includes a free trial of Crowley's digital IMAGEhost microfilm hosting and viewing platform.
Price! Scan faster; pay less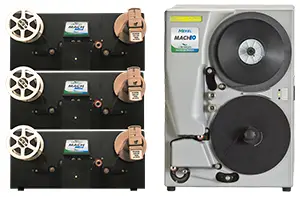 NEW! Optical character recognition (OCR)
Speed. Captures 500 images per minute (ipm)
Microfilm options. Scan 100′ and 215′ microfilm in open spool or 3M/ANSI-C cartridges (optional)
Portability. A small footprint and rugged design make it easy to transport the MACH Mini from department to department or off-site for branch or client scanning projects to eliminate shipment costs and concerns.
Line Array camera. A full 8,192 pixel CCD line array camera captures high-quality images
Resolution. 100-600 true optical dpi with 4x-96x reduction ratio
IMAGEhost compatible
Looking for other scanner options? Click to view all available microfilm scanners.
MACH-Series Microfilm Scanner PC Specifications
Category
Recommended Specification
Processor
Intel Xeon Processor W-2235
Memory
16 GB or more
Hard Drives
OS Drive – 256G SSD;

Payload Drives – 2x1TB 7200rpm;

SATA Hard Drives

DVD/CD Drive
Recommended
Monitor
24″ Dell Monitor
Graphics Card
Quadro P620, 2GB
Operating System
Windows 10 Pro (64 bit only with Intel Processor)
USB Interface
3.0
The Crowley Company pursues a policy of continuous product improvement and reserves the right to change these specifications without notice.
Visit Crowley's Technical Support section for information on scanner maintenance, warranty or contract options and more.