Forever Young: Preserving Oak Hill Cemetery Lot and Stereoscopic Cards through Digitization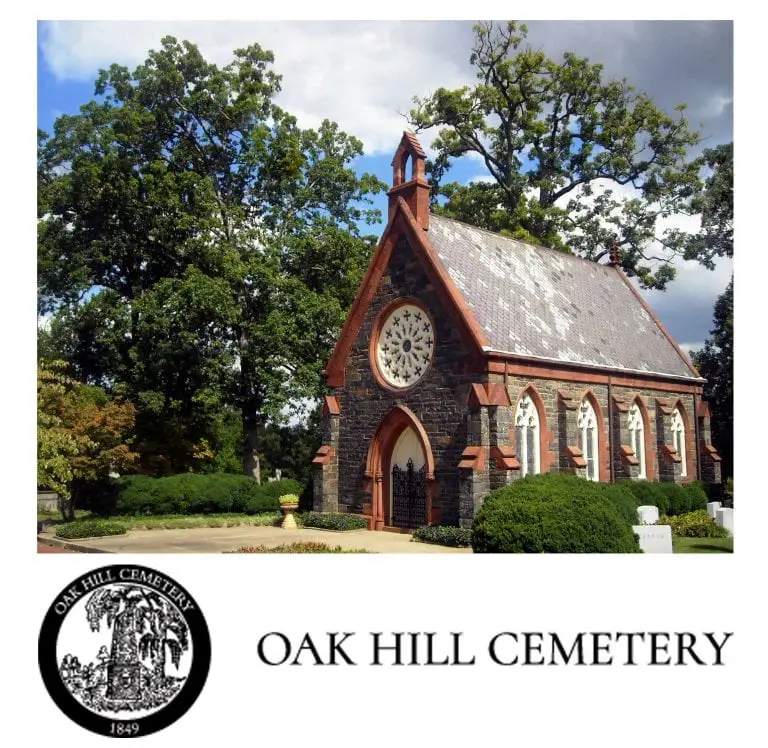 Cemeteries have so much more to offer than just an eternal resting place. They provide insight into history, reveal family ties long forgotten, remind us of the importance of "the dash" and inspire future stories. The purpose of a cemetery begins long before death and continues long after.
Within the iron gates of Oak Hill Cemetery (OHC) in the nation's capital, this purpose is being furthered with the digitization of 170 years of history documented on paper, on cards, in stereoscope and in photographs. Working with The Crowley Company on two scanning projects to preserve these one-of-a-kind materials, Oak Hill Cemetery now has a digital repository of history related to their prestigious architecture, bucolic grounds and impressive residents.
Oak Hill, Lincoln and a Bestseller
Nestled in the historic and well-known Georgetown neighborhood, Oak Hill Cemetery was established on land gifted by banker, philanthropist and art collector William Wilson Corcoran and chartered by an act of Congress. The historic cemetery has since maintained a reputation for beautiful landscapes, an awe-inspiring chapel designed by 19th century architect James Renwick Jr. and as the final resting place of several prominent figures. These include civil rights activist Peggy Cooper Cafritz, Ben Bradlee, former Washington Post executive editor and vice president at-large, Herman Hollerith, creator of punch codes (a crucial part of data-keeping on aperture cards) and many others.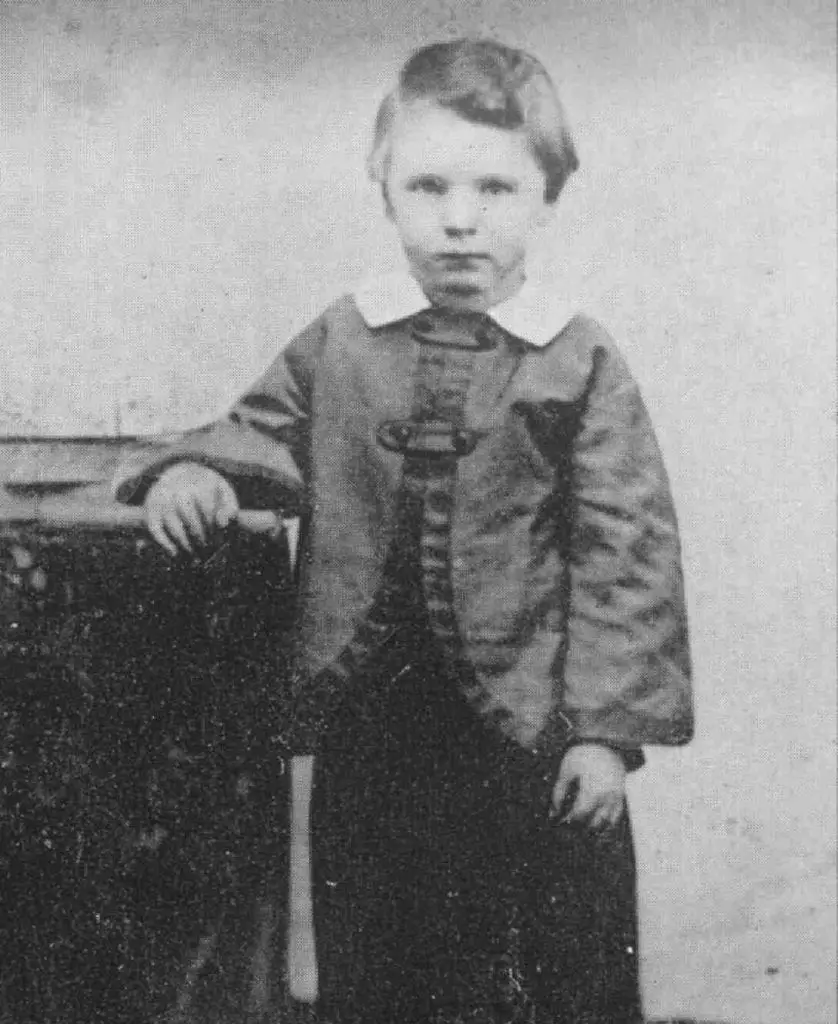 Abraham Lincoln's son, William Wallace (Willie) Lincoln, was interred at Oak Hill Cemetery in 1862 after his death from typhoid fever. According to news reports of the day, Lincoln entered the crypt several times after the boy was interred to hold his son's body. This profound action inspired current generation author George Saunders to write Lincoln in the Bardo, a novel set in Oak Hill Cemetery and "the bardo" (a Buddhist belief in the state of existence between death and rebirth). Since its 2017 release, the novel has become a New York Times and USA Today bestseller and continues to raise interest in, and visits to, Oak Hill Cemetery.
Digitizing for Eternity
On-site visitors aren't the only ones curious about the historic grounds or the distinguished residents. Oak Hill Cemetery receives large numbers of digital and written information requests from around the world. These requests were previously filled by a staff member who had to walk to a brick safe, pull the original records from the archive, copy or hand scan the record and then return it to the archive, adding wear and tear to the fragile records and requiring staff time that was already taxed. OHC, with the help of their Historic Preservation Foundation, sought to expedite the record request process and to protect the archives, which date from 1849. The archives — which include lot files, burial index cards, photographs, cultural artifacts, burial notes and more —  were bound for digitization. Following a recommendation from Congressional Cemetery, Oak Hill reached out to The Crowley Company to digitize their first two collections.
Elizabeth Mizell, Oak Hill Cemetery's director of development, notes that "a main objective in digitizing the Oak Hill archive was public access. We now have the capability to host our non-confidential records on our new website. Our long-term plan is to use these digital images to create a printed manuscript on Oak Hill Cemetery's history which will then be used as the basis for a major visitor exhibit." Having just launched last week, the website has already sped up the information-sharing process with an electronic request for records link.
As an important side note, the Historic Preservation Foundation was established in 2003 to plan for the cemetery's years as an active museum and resting place once all plots have been sold.
Cemetery Card Scanning and Digitization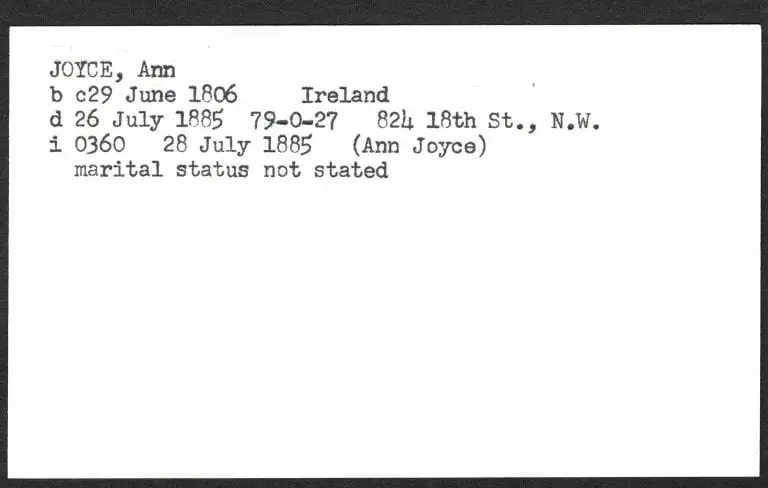 Over the last 170 years, each purchased burial space was noted on an index-sized card, referred to as a cemetery card, with location, amount paid, owner information and other pertinent details. The cards are kept in secured filing cabinets in the Oak Hill archives. "These documents are one of a kind; no other copies existed prior to digitization," impresses Mizell. "In addition to having an electronic copy, we now have the card details cataloged into an Excel data sheet to avoid losing the information forever and to act as a convenient finding aid."
In an unusual scenario, based on both security requirements and the fairly close 50 mile commute between Oak Hill Cemetery and The Crowley Company, OHC's superintendent, Dave Jackson, drove filing cabinets with the 3,250 cemetery cards to Crowley Imaging, Crowley's conversion services division. As previously scheduled, Jackson waited while the cards were digitized using InoTec 433 scanners with gentle auto-feed rollers. The cemetery cards were captured at 300 dpi and output as grayscale JPG files. A few hours later, the cards were on the way back to Oak Hill Cemetery. The digital images were then sent to a partner organization, which keyed the card information into an Excel sheet for eventual integration into Oak Hill's electronic document management database. Once complete, the processed digital images and finished spreadsheet were delivered to Oak Hill Cemetery on a thumb drive.
"We still use the card method to this day," says Mizell, "but we have also been recording lot purchases electronically for the past five years. Both the digital and the hard copy images have a part in keeping our records clear and well-documented."
Stereoscopic Card Digitization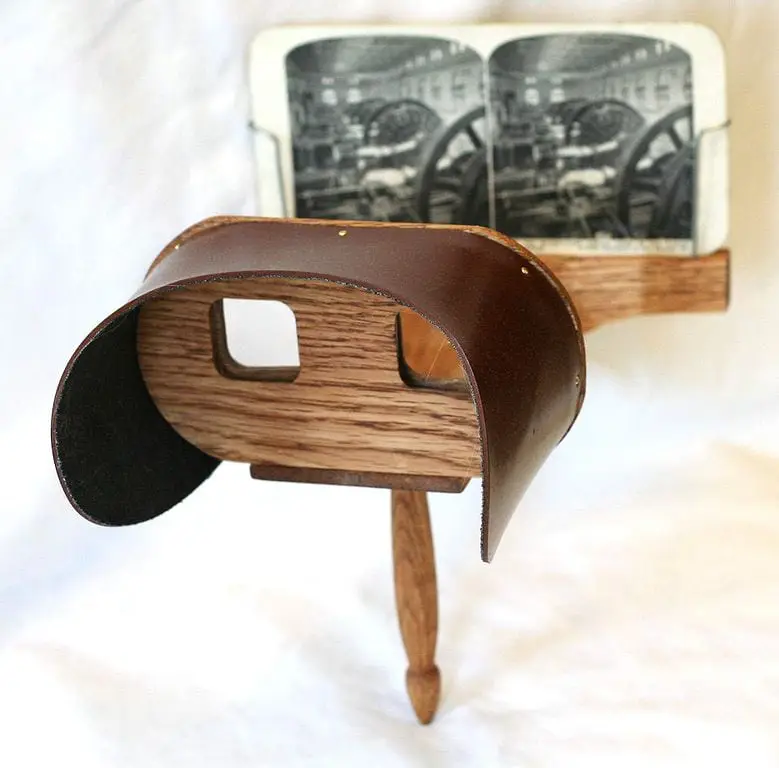 The second collection digitized by Crowley Imaging was a set of stereoscopic image cards. Popularized in the 19th century, stereoscopic cards allowed anyone with a special viewer to observe various scenes, stories, landmarks or geography in 3D. When slid into the front of a stereoscope viewer (similar to today's View-Master), the cards allowed users to see far away places as if they were there. Sets of cards were made of Oak Hill Cemetery which was (and still is) famous for its Victorian-style landscape.
According to Mizell, many of the cards depicting Oak Hill Cemetery date somewhere in the mid-1800s. Some are very rare and were a collector's item gifted by a longstanding and forward-thinking board member. As the story goes, the board member happened upon them at an outdoor market in the city of Washington many years ago and immediately recognized their historic value.
The stereoscopic cards were organized by Oak Hill staff prior to being sent for digitization. Using 100MP digital back cameras, the cards were captured at 1200 dpi resolution. Brady Wilks, Crowley Imaging's graphic arts project manager, notes that "the cards posed an interesting challenge in that, due to age, many of the cards had curled slightly. This distorted the image when capturing with a standard point-and-shoot method." To counteract the image distortion, Crowley's team of imaging specialists precisely angled the cameras in a way that squared off the images and created the truest capture to the original. "Once we worked out the best camera angles," says Wilks, "the digitization went very quickly.
The stereoscopic cards were delivered to the client as TIFF images, along with the originals.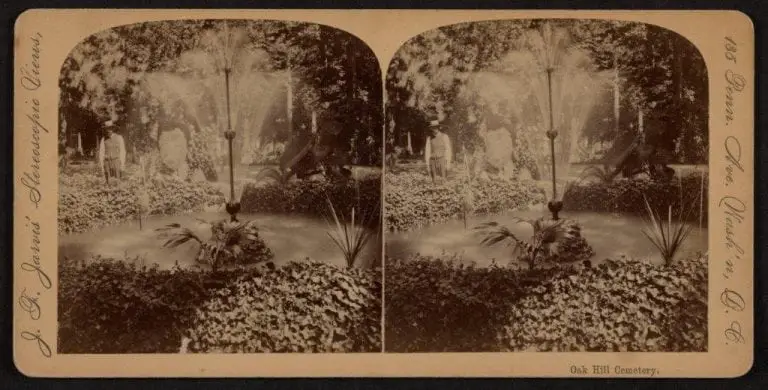 Who Tells Your Story?
The legacy we leave this world is chronicled not only in the hearts of those we leave behind, but in the documents and photographs that hold breadcrumbs of our story. Whether it is a genealogist looking for a civil war veteran, a family searching for a lost loved one or a writer seeking the stories of historic figures, Oak Hill and many cemeteries like them are working tirelessly to preserve the legacies of the dead while benefiting the living.
Autumn offers an ideal time to walk through your own local cemeteries. You may just find opportunities for inspiration, to foster curiosity and to honor those that have gone before.
Visiting D.C.? The historic Oak Hill Cemetery is free to the public and offers events both educational and recreational. Visit www.oakhillcemeterydc.org for hours of operation and directions.
LEARN MORE ABOUT THE DIGITIZING CAPABILITIES OF CROWLEY IMAGING     
For more information on the conversion services offered by Crowley Imaging (including image scanning and manuscript scanning) or the scanners that can be purchased for small and large-scale digitization efforts, please visit thecrowleycompany.com or call (240) 215-0224. General inquiries can be emailed to [email protected]. You can also follow The Crowley Company on Facebook, Twitter, Google+, LinkedIn, Pinterest and YouTube.
[Hannah-Clawson]