Mold: How to Protect Vital Collections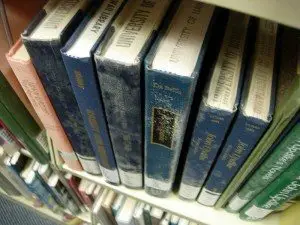 I recently came across this article in the Shreveport Times detailing the growing problem of mold (pun intended) in the Shreve Memorial Library. This is one example of a common concern amongst libraries and archives. How do you keep your collections safe from mold and other forms of erosion and aging?
As we've discussed in a previous blog, microfilm is the longest surviving media and can last up to 500 years when stored properly. But don't overlook that last part – when stored properly. With that in mind, here are just a few tips for storing valuable collections, whether the material is microfilm, books, photographs or otherwise.
Keep Collections Cool and Dry
Mold is caused by high levels of humidity in the air. Consider placing a few dehumidifiers in the rooms which house your valuable collections. According to the Smithsonian Institution Archives' environmental standards, the ideal temperature and humidity for preservation are:
Paper: 35-50% relative humidity; 35-65 degrees Fahrenheit
Microfilm: 20-50% relative humidity; recommended temperature differs depending on the type of film (see page 1)
Photographs: 30-50% relative humidity; recommended temperature differs depending on the type of photo (see page 2)
Use Proper Packaging and Handling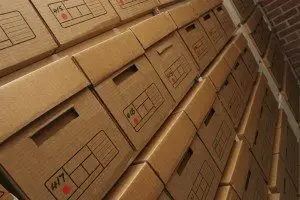 When storing material, it's important to use the appropriate packaging, whether it's boxes, folders and/or enclosures. The Library of Congress (LOC) provides a helpful list of preservation supply specifications.
The LOC also has an interesting perspective on material handling. As stated on their website, "Contrary to widespread belief, gloves are not necessarily recommended to handle rare or valuable books. Gloves (nitrile or vinyl) are always recommended if there is reason to suspect a health hazard (e.g., mold, arsenic). Clean gloves (nitrile, vinyl, or lint-free cotton) are also recommended when handling photograph albums/photographs or books with metal or ivory parts. Aside from those specific situations, it is generally preferable to handle your books with clean hands, washed with soap and thoroughly dried, rather than with gloves." Bear in mind, the gloves vs. no gloves discussion is still a subject of debate in the archival imaging industry and has not officially been settled.
Have a Backup Plan
There is only so much one can do to protect and properly store your physical materials. The best way to ensure that the information preserved in your collections is safe from potential disasters like mold, flooding and even fire – such as the fire that recently destroyed millions of historic texts at a Moscow academic library – is to have a digital backup. Digital repositories play a key role in disaster recovery plans, as they can be stored remotely and retrieved on an as-needed basis.
When establishing a digital repository, it is wise to have your scanned images in a format which can be easily accessed and edited. The Smithsonian Institution explains this necessity in their own preservation proceedings, stating, "The Archives relies on preservation file formats that are not dependent on a specific software application or operating system, meaning that formats are open and widely accepted whenever possible."[1] According to their list of accepted preservation formats, the best formats for text or image-based records are PDF or TIFF.
Whether you need PDF, TIFF, JPEG, BMP or almost any other file type, Crowley Imaging has the capture technology and experienced staff to help create a digital backup of all your microform, paper documents, bound or oversized collections. Crowley Imaging's East and West Coast service bureaus offer a wide variety of scanning services, including archive writing (creating microfilm from digital images). Having worked with numerous public, private and federal organizations to capture vital information for disaster recovery planning purposes, Crowley Imaging has the capability to meet and exceed almost any preservation standards and ensure that your collections stand the test of time (and mold).
Can you Digitize Moldy Material?
If a collection has been subject to water damage or already contains mold growth, don't panic – the information can still be salvaged. First steps include preserving the physical material by air-drying or even freezing.[2] The material can then be digitized, but operators are advised to wear protective gear such as face masks and gloves (see above).
Learn more about the digitizing capabilities of Crowley Imaging    
For more information on the digital and analog conversion services offered by Crowley Imaging, please visit our website or call (240) 215-0224. General inquiries can be emailed to [email protected]. Stay connected and follow The Crowley Company on Facebook, Twitter, Google+, LinkedIn, Pinterest and YouTube.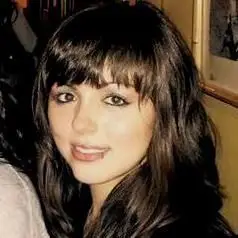 With a bachelor's degree in Mass Communication from Towson University, Camily Bishop serves as The Crowley Company's sales and marketing assistant. A self-proclaimed member of the grammar police and avid reader of classical fiction, you can find her curled up with a good e-book or, on a nice day, experiencing the great outdoors – perhaps at the nearest wine festival.