Bringing LIFE to Life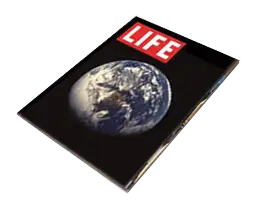 Editor's note: October is American Archives Month and a reminder of how important the records of our past are to our future. To celebrate, we're highlighting five conversion projects throughout the month. Last week we discussed how the AAAI had created a virtual archive for scientific material that is no longer easily attainable. Today we look at the mass digitization and public sharing of one of the most iconic collections of photos anywhere, the LIFE Photo Archive.
The Digitization of 10+M Photographic Images from Time Inc.'s LIFE Magazine Archives
Five years ago I walked through the doors of The Crowley Company for a job interview. I came in knowing nothing about the world of archival preservation beyond what I had read on the company website. I walked out with stars in my eyes. The primary source of wonderment was a series of sturdy world-warish army green file cabinets that filled a large portion of the Crowley service bureau. One opening of one drawer. That's all it took.
That drawer – and hundreds of others like it – was overflowing with photo negatives from the LIFE magazine photo archive owned by Time Inc. It held negatives from photographers such as Margaret Bourke-White, Ed Clark, Alfred Eisenstaedt, Nina Leen, Gordon Parks and others of similar stature in their field. For every one photo printed, another 100 taken may have never seen the light of day. With one look, it was clear to me (the non-archivist) that this collection, which begins in 1936 and runs through – with a six-year hiatus – the year 2000, was an American treasure. And here it was. In my backyard.
After the drawer came "the room." Known within Crowley as "the LIFE room," we headed into a rectangle filled with head-down imaging specialists at their respective digitization stations – some for color negatives, some for black and white negatives, some for transparencies, some for reflective prints and glass plates – and all with recognizable subjects on their computer screens. Marilyn. JFK. Einstein. The moon. The soldiers. The hippies. The violations of rights. Each image evoking communal emotion and documenting so thoroughly our historical and cultural evolutions and revolutions.
Perhaps most impressive to me that first day was the process and the numbers: approximately 10.5 million images scanned or photographed, mostly by hand, every 30 seconds for a total of an estimated 14,000 images per day. For more than two years. That's a lot of images. It's a lot of trust. I was intrigued and I wanted in.
Today, those images are hosted by Google and available for the world to see. The file cabinets still exist with their hard copy treasures – the true archive – but their contents have been preserved for generations to come. And oh, I got the job.
Read the detailed LIFE Photo Archive case study
Read LIFE Photo Archive coverage by the Baltimore Sun
Questions about digitizing for preservation or wider access?
If you have any questions about preserving history through digitization, please contact The Crowley Company by calling (240) 215-0224. General inquiries can be emailed to [email protected]. You can also follow The Crowley Company on Facebook, Twitter, Google+, LinkedIn, Pinterest, and YouTube.
3 Responses