Micrographics
Microfilm Scanning. Film Duplication. Film Generation from Digital.
The More Things Change, the More Microfilm & Micrographics Matter
Get a Quote on Imaging Services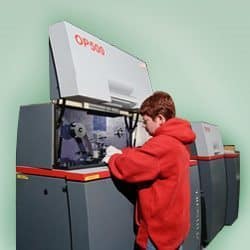 When The Crowley Company opened its doors as Crowley Micrographics in 1980, product mainstays included cameras, processors, silver and diazo duplicators, inspection equipment and accessories. Despite the trend toward electronic imaging and digital conversions in the 1990's – a trend in which Crowley has taken a leadership role – Crowley Imaging is one of the few service bureaus that has retained its micrographics core.
Today, the division continues to provide a full range of micrographic services including:
Preservation microfilming: 16mm/35mm/105mm
Planetary, rotary and bound-book filming at multiple reductions ratios and film lengths
Diazo and silver halide film duplication services
Archival polysulfide treatment (brown toning) or silver microfilms
Digital to film output of 16mm and 35mm archival films (grayscale/color)
Film and fiche generation from digital-born images (archive writing)
Why is Microfilm Important?
Every few years, electronic storage takes on a new face. Hardware changes and short or errant storage life-spans can make access to the information contained on those devices difficult, if not impossible, to achieve. Additionally, the cost of long-term storage as information moves from gigabytes to terabytes to petabytes and beyond will become cost-prohibitive for many. Archive writing – or generating microfilm from digitally-born information – ensures that the information will be available indefinitely in its purest form. Stored under proper conditions, microfilm can retain its images for up to 500 years and (simplifying) only requires light and magnification sources to access the images. Microfilm ensures that archives and records remain available for the near – and distant – future.
The Ongoing Importance of Micrographics
The Crowley Company firmly believes in – and continues to advocate for – the long term preservation benefits of microfilm through commitment to the continued development of state-of-the-art hardware (as manufacturers of HF Processors and Extek Microsystems micrographic equipment), the ongoing sale of microfilm and a dedication to providing preservation standard micrographic services.
Learn more about our work with micrographics by getting in touch.