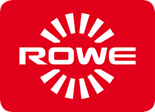 ROWE Map, Blueprint and Large Format Scanners
and Folding Systems
ROWE: High-quality German Craftsmanship for Large Format Scanning and Folding Systems
Get a Quote on ROWE Large Format Scanners
ROWE has been specializing in large and wide format scan technologies for more than 60 years with their manufactured large format scanners, printers, folding systems and cutting-edge technology. Working independently or together, all products ensure excellent image quality and efficient mapping of business processes.
Scanner Key Features:
High scan quality: Capturing in high resolutions, the ScanMatrix+ software includes patented technology which helps operators achieve maximum scan quality
Productivity: Combining SuperSpeed USB 3.0 connectivity, in-software image editing, "on-the-fly" document recognition and no scanner downtime, the large format scanners offer fast scanning for production volumes of wide format materials
Multi-functional solutions: Add-ons and accessories enable scanner owners to create ergonomic, multi-functional units to get optimal use out of any scanner investment


Minimal operating costs

: Made from high-quality materials using world-recognized German workmanship, the wide format scanners are built to last
ROWE Software
ROWE 450i and 850i large format scanners are powered by ScanMatrix+ software allowing for ease-of-use, high-quality capture and comprehensive editing tools.
Choose safe, reliable wide and large format scanning and folding with ROWE
Want to learn more about the capabilities of ROWE scanning solutions? Get in touch with us.