Scanner Warranty and Contract Options
Protect Your Hardware Investment
Get a Quote for Technical Support from Crowley
The Crowley Company understands how significant digitization hardware can be to the success of your projects. Crowley offers a scanner warranty and various contract options on all of our manufactured and distributed products to ensure smooth operation for years to come.
Scanner Warranty
A standard warranty is included with the purchase of new digitization hardware purchased from The Crowley Company. The warranty delivered is dependent upon scanner type; details may vary from country to country. All North American equipment purchases include a one year standard warranty covering parts, same day response and priority scheduling. During the first 90 days of ownership, labor is covered under your warranty, should a need arise.

Crowley Contract Offerings
When initiating or renewing a maintenance contract with Crowley Support Services, clients purchase an insurance policy to prepare for unexpected technical issues that could cause out-of-budget expenses. All Crowley contracts include unlimited remote support and same day remote response. All support is provided by factory-certified technicians and professional staff ready to serve you.
On-site Maintenance Contracts
Preventative Maintenance Contract (PMC) – Covering both emergency maintenance and a yearly preventative maintenance visit, a PMC offers full coverage support on scanning hardware. It also includes a yearly health check to ensure that issues rarely occur and equipment operates at peak efficiency for maximum return on investment.
Remote Maintenance Contracts
Depot Maintenance Contract (DMC) – A depot warranty is similar to a factory service warranty. If a repair is needed, the scanner is shipped to one of Crowley's facilities for maintenance, saving additional travel costs and time.
Advanced Unit Replacement (AUR) – For smaller scanners and patron products, the AUR agreement allows a replacement unit to be sent to the customer in the unlikely event that their unit needs technical service. This allows operators and researchers to continue digitizing without delays.
Software Maintenance Contract (SMC) – An annual software maintenance contract provides unlimited remote software support, updates and revisions to current software versions. Additionally, holders of an annual software maintenance contract receive deep discounts on next-generation software upgrades (i.e., 3.0 versions to 4.0 versions).
Emergency Repair Services
If a unit is not covered by a warranty or one of the above maintenance contracts, emergency repair services are offered.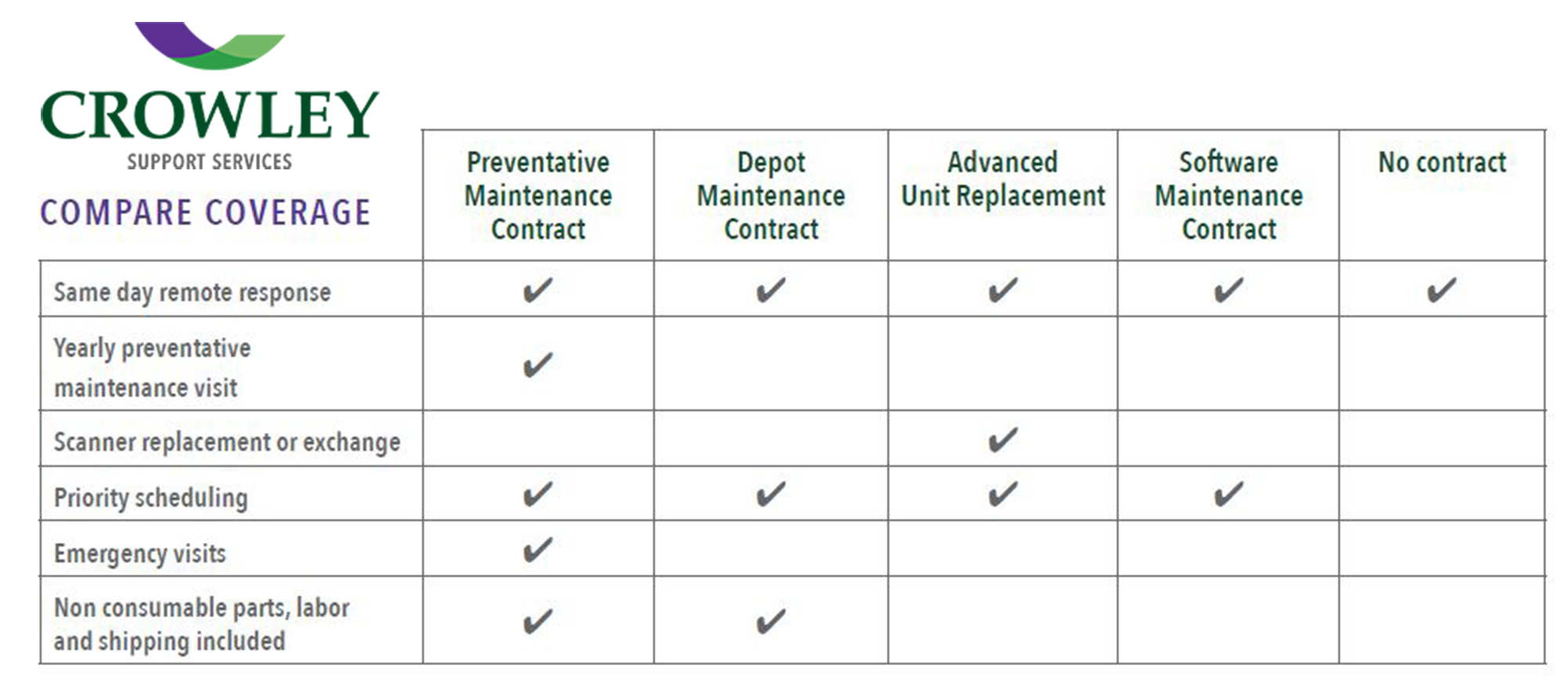 For more information or a quote on warranties or maintenance agreements, please contact your sales representative or email support@thecrowleycompany.com.