Qidenus Book Scanner Software
Offering a Powerful Book Scanning Software Package
Get a Quote on Qidenus Software
QiCapture Software Suite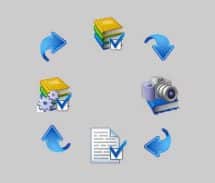 Designed specifically for the Qidenus line of semi-automatic and robotic book scanners, QiCapture Software Suite (formally known as QiScan) is a powerful software package which includes image capturing, image processing, quality control and workflow management. The software incorporates a variety of great features, such as: image capture (scanning or import); image processing/editing; easy frame insertion, removal and rearranging; re-scanning; metadata creation & insertion; batch processing; status monitoring; workflow/job management; quality control; automatic device recognition; export scheduler and more.
The QiCapture Software is designed to speed up every part of the digitization process by increasing throughput while simultaneously increasing output quality. It provides an intelligent workflow paired with a clearly arranged user interface.
Key Features:
Real time preview of images
SQL Database
Large variety of image processing algorithms
Execution of image processing scripts
Quality control center for scanned images/books
Management of different batch processors
Color management – ICC profiling
OCR – fully searchable text output
Data files available a.o: JPEG, TIFF, RAW, PDF, PDF OCR, XML
iCapture Software
The iCapture software from iGuana is designed as a scalable, all-in-one cultural heritage and archive digitization platform for libraries, archives, museums, universities, government, municipalities and other institutions. Used alongside the Qidenus scanners or as a stand alone software, iCapture allows those with wide varieties of cultural heritage & archive materials an easy-to-use interface to scan and process large amounts of images and metadata.
Key Features:
Image capture, processing & enhancement
Classification and indexing
Metadata extraction
Export in various formats
Process & capture flow management
Quality control
Project management
Production statistics & monitoring