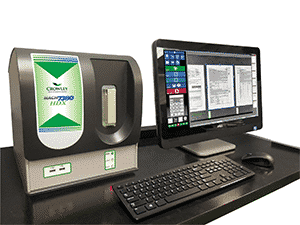 High-volume, Reference Archive Scanner:
Crowley MACH7380 HDX
The successor to Kodak's popular i7300, the Crowley brand MACH7380 HDX microfilm reference archive scanner reverses the inefficient aspects of traditional microfilm retrieval by offering quick view times, multiple output/delivery options and even more work-saving functionality. MACH7380 HDX ownership offers low maintenance and less consumable parts when compared to aging blip film scanners.
With the MACH7380 HDX scanner, images from reference microfilm (also known as image marker or blip microfilm) are retrieved quickly and displayed digitally for identification. Output options include printing, emailing or saving to USB or network. The MACH7380 HDX reference archive scanner produces exceptionally high-quality images that are deskewed, cropped, merged (duplexed) and displayed in seconds.
18MP active pixel sensor array
Compact, space-saving design
Easy-to-use interface
Fast and accurate digital image retrieval from 16mm blip film
Real-time image control: operators can adjust image contrast and brightness during scanning, saving time and avoiding costly re-scans
Optional Batch Scan mode: scan, save and/or print documents within a specified image address range
Digital scrolling mode: enables operators to perform manual searches from a PC
Electronic zoom controls: focus in on any part of a document—even as it's moving—to make finding key information more efficient than ever
Looking for other digitization hardware options? Click to view all available microfilm scanners.
MACH7380 HDX PC Specifications
| | |
| --- | --- |
| Processor | Minimum – Intel Core i5 |
|   | Recommended – Intel Core i7 |
| Memory | Minimum – 4 GB |
|   | Recommended – 8 GB or more |
| Hard Drives | No recommended specification |
| CD Drive | Required. DVD software included; electronic delivery upon request |
| Monitor | Minimum – 1024 x 768 Full Color |
|   | Recommended – 23" Touchscreen 1920 x 1080 Full Color |
| Graphics Card | No recommended specification |
| Operating System | Windows 10 Pro (64 bit only with Intel Processor) |
| USB Interface | USB 3.0 |
The Crowley Company pursues a policy of continuous product improvement and reserves the right to change these specifications without notice.
Visit Crowley's Technical Support section for information on scanner maintenance, warranty, contract options and more.