High-volume:
Wicks and Wilson
7700-Series Microfiche Scanners
The High-Performance Solution
to Digitize Microfiche
Get a Quote on the 7700-series Microfiche Scanners

The 7700-series microfiche scanners designed by Wicks and Wilson and manufactured by The Crowley Company provide automated batch digitization for all types of microfiche including jackets, COM, step-and-repeat and aperture cards. From capture to final image output and quality assurance, the 7700-Series microfiche scanners makes converting microfiche to high-quality digital images a quick and simple process.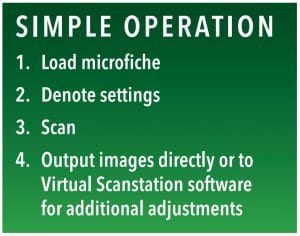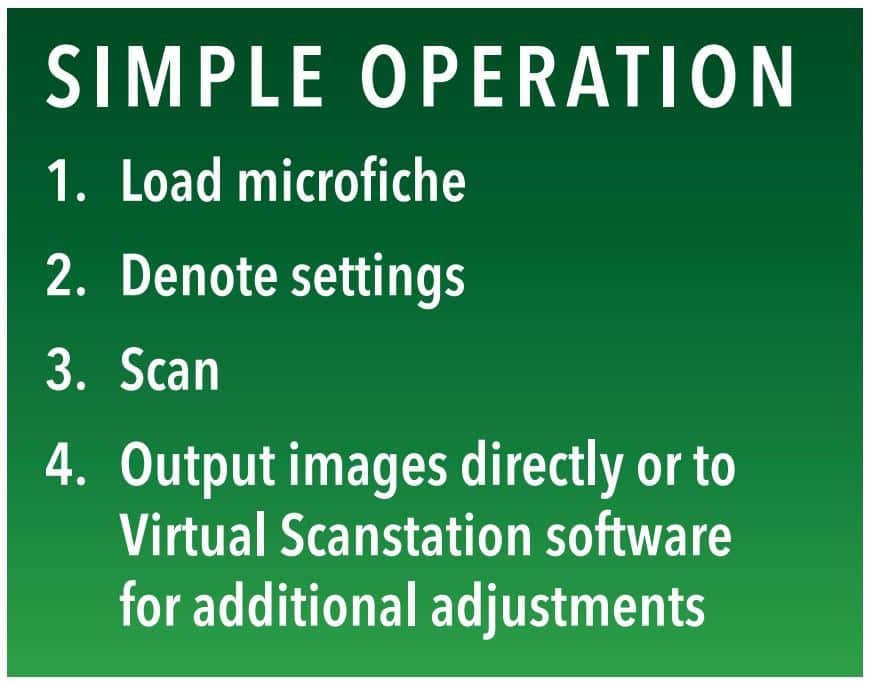 The 7750 model is a true high-volume production microfiche scanner utilizing Wicks and Wilson's proven and reliable
automatic feed, closed cartridge system. This unique system totally eliminates any possibility of the microfiche being
dropped, damaged or stuck together during the automated scanning process. A mid-range option, the 7720 model takes
advantage of 7750 technology, but offers lower-volume output at a moderate price for those not at the high-end need
of the production scanner market
100% Quality Assurance
Wicks and Wilson's Virtual Scanstation software enables 100% QA inspection and image reprocessing without any need to pause the scanning process or rescan the microfiche sheets. Virtual Scanstation allows operators to retrieve, edit and save any image from a scanned batch quickly without having to pull the original material.
Access Images Anywhere, Anytime
The 7700-Series microfiche scanners are compatible with Crowley's IMAGEhost microfilm image retrieval platform. IMAGEhost allows microfiche or microfilm collections to be accessed and viewed in their original format via any internet-enabled device.
Scans images in up to 600 dpi resolution
Digitizes all types of aperture cards and microfiche including COM formats
Automatically captures complete fiche or aperture cards, creating digitized grayscale and bitonal images simultaneously at full speed
Runs on a powerful multi-core nVIDIA® graphics processor to display any imaging adjustments on-screen in real-time without the need to rescan
Engineered specifically for microfiche capture using custom lens, holographic diffuser and 12-bit camera system
Compatible with Virtual Scanstation software for microfiche, Wicks and Wilson's comprehensive off-line QA tool and inspection tool that dramatically enhances workflow, accuracy, and productivity
Looking for other scanner options? Click to view all Crowley microfiche scanner offerings.
Visit Crowley's Technical Support section for information on scanner maintenance, warranty, contract options and more.